What better way to commemorate a big day than with embarrassing photographs? I wrote this post ahead of time, so I didn't have to add to an already-hectic morning. Right now, I'm probably rolling out of bed, shoving Sushi in her carrier, and trying to get to the airport with my boyfriend, who has been kind enough to come out and celebrate my last week in California with me. All my stuff is shipped, all my remaining stuff is in storage, and San Francisco is wrapping itself up in its foggy coat and wondering why it feels so lonely.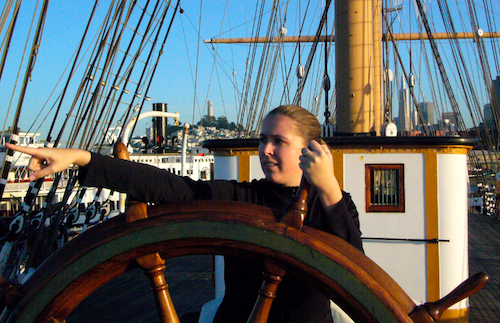 (I think I'm technically pointing west here, instead of east, but whatever. I don't know why, but I have always loved this picture of me on the S.S. Balclutha at the Hyde Street Pier. You can see the Coit Tower and the Transamerica Building through the rigging behind me. Arrrrrrr!)
I'm headed from my longtime home of San Francisco: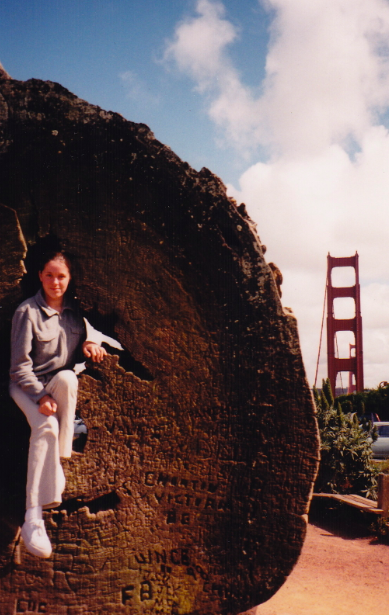 To probably the only other place I could ever call home…New York!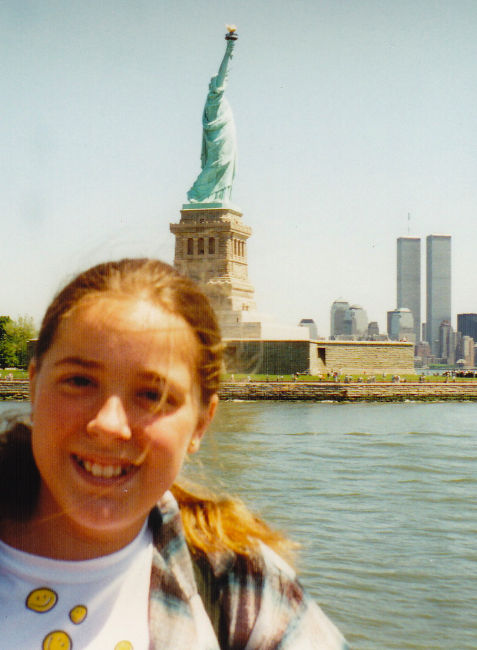 (That's not a picture I'll ever get to take again. Now you know why I wasn't what you'd call "popular" as a kid. The whole "smiley face t-shirt, grunge-era flannel" combination was not as unusual as I'd like to think.)
I'm keeping a residence in California and will be back often to see family, friends, go to meetings, do Big Sur, and all that jazz. In the meantime, I'm looking forward to many new adventures and new successes as your east coast kidlit representative.
Tags: About Me