This weekend, I was a guest and speaker of the Central Ohio chapter of the SCBWI, on an invitation from Susan Bradley. On Friday night, after I checked in to my hotel, we went out to sushi with volunteer Laurie Miller, then Susan and I ate at Jeni's Ice Cream, which is mind-blowing stuff.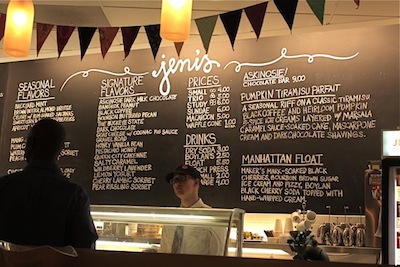 I had a scoop of goat cheese, balsamic, and fig, a scoop of five-spice pumpkin, and I had to try the buckeye, which was peanut butter and chocolate. You can see part of their impressive menu here. I was so sad that I missed the "Pumpkin Tiramisu Parfait," but I'd gotten sucked right in to the ice cream cases and didn't even glance at the menu.
On Saturday morning, it was up at the crack of dawn to head over to the conference location. The local SCBWI members got a very balanced program, packed in to one 9-12 time slot. I spoke with two other guests. First was author Lisa Klein of OPHELIA, TWO GIRLS OF GETTYSBURG, LADY MACBETH'S DAUGHTER and the upcoming CATE OF THE LOST COLONY, which are all gorgeous historical YA novels. Then came Marcia James, a romance writer and self-appointed PR guru who had a lot of great tips for the writers. We spoke at the Upper Arlington Senior Center, near Columbus, which you can see below. Look at those great fall colors!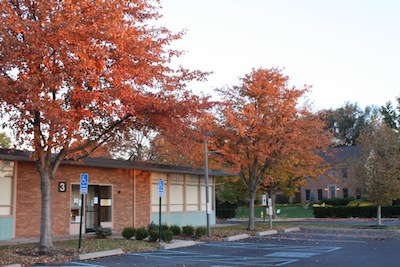 I did two talks. One was my standard kidlit market overview, which some of you have probably heard (it's also the meat of my webinar and Learning Annex talks), and a new talk on the agent search. I got a lot of good questions from the audience. One was a gentle reminder to add the AAR (aaronline.org) to my list of agent search resources. And it's true. The AAR lists all the agents who are members, and has an area where you can find agents based on whether they've joined the group.
Another good question was about agency contracts. At ABLit, we have a simple, one page agency agreement. In an upcoming post, I will talk about it and other agency agreements, and why it's important to have a glance at a potential agent's contract before accepting an offer of representation. Some agents don't have contracts, which I find off-putting, and so I'll also talk a bit more about why it's important to have something in writing.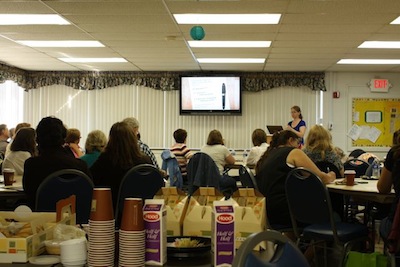 Lisa, who you can see here, spoke about scene-work and her talk was dynamite. We all spend a long time writing our talks and thinking about them, so I won't crib from her presentation, but let me just say that if you ever get the chance to see it for yourself, you are one lucky writer.
I can note that she had the following to say about POV: "If your story isn't working one way, change your point of view." I wholeheartedly agree. It always pays to play and experiment.
She also spoke about narrators and narrative voice, and how to differentiate between your characters in dialogue. This is all really important stuff. Another favorite quote from her talk: "Good dialogue reveals character and moves the plot ahead." She also read from her books. If I were you, I'd pick up a copy of her work. One of my favorite details is how deeply researched her writing is, but that the research never overwhelms the story.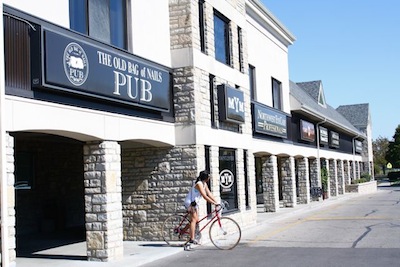 I missed most of Marcia's presentation because I had pitch sessions to attend, but she has a PR information packet for other writers that you can request by emailing her, so you should check out her website.
After the conference, Susan and two of the volunteers went out to lunch at the Old Bag of Nails Pub. It was an absolutely beautiful day in Ohio, clear skies and summer temperatures, even as the leaves were turning. I had a tuna melt and a beer and got ready for the next leg of my adventure.
You see, Ohio wasn't just a business visit. I have two clients who live in the Cleveland area, Lindsay Ward (website) and Kellie DuBay Gillis (Twitter), who also happen to be fabulous friends. So they came to get me after lunch and we set off on the two and a half hour drive northeast.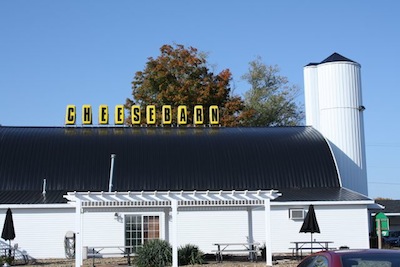 On the way, I was awed by the fields and beautiful nature of Ohio. And, of course, by the rustic beauty of Grandpa's Village and the Cheesebarn. (Me: "Pull over! Pull over! It's the Cheesebarn!" Kellie: "Uh, okay?" Me: "I really want a picture of it!" Kellie: "…" Lindsay: "Just pull over.")
But mostly we gossiped and talked about our lives and about writing and publishing. I'm very lucky to have these two ladies, who both work primarily in picture books, on my client list.
In Cleveland, I stayed with Lindsay, at her beautiful apartment full of art and books, where she lives with her boyfriend. Lindsay, Kellie, and I shook off the road with a bottle of wine (which I stoppered with my faculty gift from Susan and the SCBWI: a decorative wine stopper with a genuine buckeye speared through it!) and then set out for dinner at Lola, a Michael-Symon-of-Food-Network-fame restaurant.
We had beef cheek pierogies (Kellie), ceviche (me), and some of Lindsay's lush French onion soup to start, then scallops (Kellie), mahi mahi (me), and some really delicious duck with bacon-flavored cous cous for Lindsay. Dessert was artisan donuts dunked in hot chocolate and french toast with bacon and maple syrup ice cream (!!!). If you can't tell, Michael Symon has a bit of a thing for pig. If this was my restaurant, I'd give it the slogan, "Eat out with your meat out."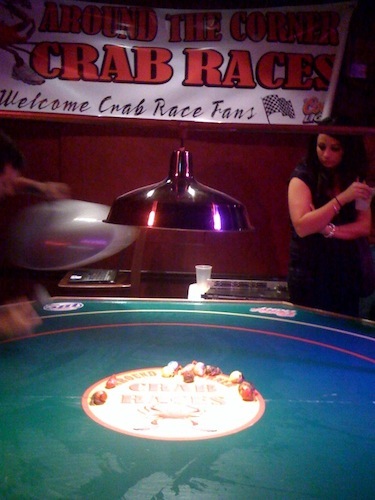 After that, Lindsay, her boyfriend, a few of his friends, and I headed to a bar in their neighborhood. There, I encountered an amazing local specialty: the crab race.
Now, I asked around and had several Ohioans tell me, politely, that they had no idea what the heck I was talking about when I said "crab race." So it must not be an Ohio thing, just a delightful activity provided by this one bar.
Basically, you pick out a hermit crab with a painted shell, then the contenders huddle under a plastic dome until the jaded employee yanks it up (see the dome flying away in a blur in the picture) and then the crabs scuttle away from the center of the table (with some urging from a spray bottle). The first crab to cross the red line wins.
If you leave animal rights out of it and have a few drinks, it's actually pretty fun. My crab came in first in the first heat, then completely choked from the pressure in the finals. He (or she) didn't even come out of its shell, poor thing, and no amount of spray bottling would change its mind. Ah well! That's what you get when you race things that can easily hide.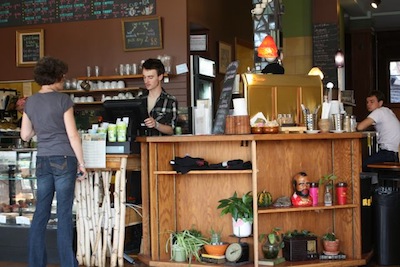 Sunday was low key. Lindsay and I went to The Root Cafe, which is a nice little indie coffee shop, then we kept up the seafood theme with a clam bake. I meant to take a picture of the final product but we were just too busy eating to bother! I love clam bakes, so I added a few of my clam bake ingredients to their usual mix.
Finally, Lindsay and I spent some time talking books and business, and then we went back to Kellie's house for a quick visit with her adorable children. Then it was off to the airport.
I had such a fantastic time in Ohio. Not only were the SCBWI members (and behind the scenes volunteers) delightful and attentive, but it was so nice to relax and indulge in some personal time with my clients, who I count as dear friends, not just business partners. Here's a shot of Lindsay and I on her front porch, right before we took off. This was a trip to remember, for both personal and professional reasons. Next weekend: Wisconsin!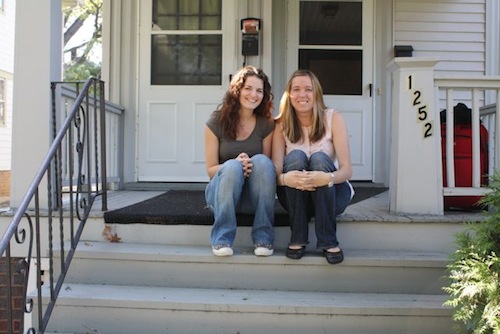 Tags: Conferences, Travel