Whether you buy these books for others or for yourself, here are my favorites from the last four or five months in picture books, middle grade, and young adult. I'll also recommend my favorite writing resources! Happy holidays, and make sure to support your local independent bookstore with these purchases. By voting for indies with your book-buying dollar, you're supporting the industry that you want to be a part of. You're also supporting those hard-working booksellers who could one day be hand selling and building buzz for your work. It's never too early to start making smart buying choices!
Picture Books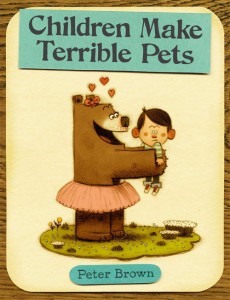 CHILDREN MAKE TERRIBLE PETS
by Peter Brown
Picture book (40 pages), Little, Brown Books for Young Readers, 2010.
ISBN: 978-0316015486
This delightful author/illustrator book is so cute that I want to squeeze the hell out of it and make it go "Squeak!" (You'll get it if you read the book.) The premise is frightfully clever and Brown really comes into his sense of humor with a cohesive, delightful idea. The bear works perfectly with the woodsy textures and colors of the art and, well, basically, I'm in love with the whole thing. So whether you buy this for some kid (I guess) or yourself, it's a treat that will have you smiling from ear to ear!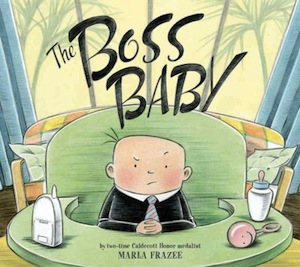 THE BOSS BABY
by Marla Frazee
Picture book (40 pages), Beach Lane Books, 2010.
ISBN: 978-1442401679
Now, I don't know if y'all have heard, but I am obsessed with this book. It takes a universal experience — new baby — and puts an irresistible spin on it. With gentle humor, this will get an appreciative nod from all new parents (or maybe that's just them nodding off to sleep from getting pushed around by their brand new boss, er, baby). Do you have any pregnant or new parent friends or relatives? Bam! I just did your holiday/shower/congratulations present shopping for you.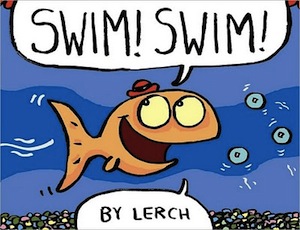 SWIM! SWIM!
by Lerch
Picture book (32 pages), Scholastic Press, 2010.
ISBN: 978-0545094191
This one is a bit of an oddball choice and it's from the summer but I first heard about it this fall so, whatever, it's going in my holiday guide. Because this is my holiday guide and I do what I want. 🙂 Just looking at this, you may not imagine that this fish's cartoony mug would inspire unexpected sympathy and love. That's where you're wrong. Lerch (alias for author/illustrator James Proimos) weaves a fishy tale of loneliness, despair, a hungry cat, and, finally, friendship. It is lovely and much deeper than you'd think by looking at the goofy, simple art style (which, by the way, is fantastic).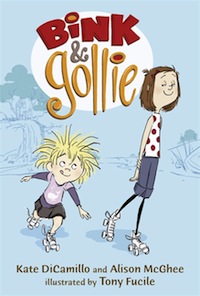 BINK AND GOLLIE
by Kate DiCamillo and Allison McGhee, illustrated by Tony Fucile
Early reader (96 pages), Candlewick Press, 2010.
ISBN: 978-0763632663
Kidlit heavyweights DiCamillo and McGhee team up with Fucile (LET'S DO NOTHING) to create, I think, the most refreshing, surprising, and downright hilarious book of the year for younger readers (and me!). Bink and Gollie are characters that you get immediately, from your gut to your heart. They star in three vignettes that echo one another and are about sisters, love, and those quirks that we can't help but adore (sometimes begrudgingly) in those closest to us. This type of voice — and you'll see what I mean when you read it — isn't for beginning writers. It's something to aspire to and dream about. In fact, this whole book seems deceptively simple. But there is brilliance at work here. I won't say any more, lest I deprive you of the sheer joy of reading BINK AND GOLLIE for the first time.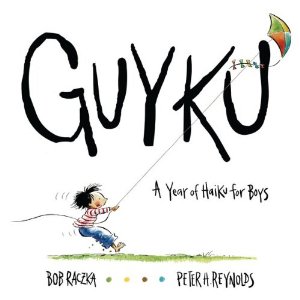 GUYKU: A YEAR OF HAIKU FOR BOYS
by Bob Raczka, illustrated by Peter H. Reynolds
Picture book (48 pages), Houghton Mifflin Harcourt, 2010.
ISBN: 978-0547240039
This book is haiku:
Seemingly simple and then…
An epiphany.
Not only do I love that this is a picture book of haiku for the four seasons, I love that it's for boys. The charming illustrations here — done with a unifying accent color for each of the four times of year — are full of boys playing and getting into trouble. And yet, in every verse, on every page, there is the wonder, the stillness, that only great haiku can capture. Some verses are really funny and down to earth. Others, downright poetic. Without giving too much away, here is one of my favorites, from summer:
With the ember end
Of my long marshmallow stick,
I draw on the dark.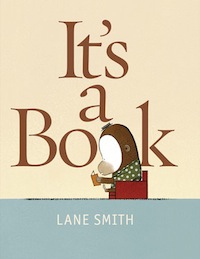 IT'S A BOOK
by Lane Smith
Picture book (32 pages), Roaring Brook Press, 2010.
ISBN: 978-1596436060
Now, you'll notice that I've added a lot of concept books to my list. What's a concept book? Well, like THE BOSS BABY and GUYKU, IT'S A BOOK isn't really narrative-driven or character-driven. Instead, it takes an idea and runs with it to make a great statement or collection. Writers: this is a tough row to hoe. Marla Frazee and Lane Smith can do it. If you're a debut writer, I wouldn't follow the example of these books, I would just appreciate them for what they are. That said, I think IT'S A BOOK is a perfect comment on the digital revolution in publishing and the world at large! Get it for your blogger friends. (Ahem, ahem…)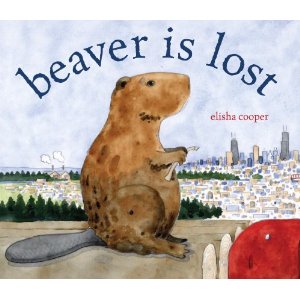 BEAVER IS LOST
by Elisha Cooper
Picture book (40 pages), Schwartz & Wade, 2010.
ISBN: 978-0375857652
This one also came out over the summer, but I love it so much that I want you to buy it for everyone you know this holiday season. It is truly a treasure. While SWIM! SWIM!, above, reaches emotional heights with some rather funny art, this story achieves the same effect with gorgeous art and few words (four, in fact). As opposed to the concept books on this list, this is very much a narrative-driven picture book by a very talented visual storyteller.
Middle Grade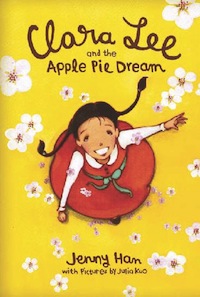 CLARA LEE AND THE APPLE PIE DREAM
by Jenny Han, illustrated by Julia Kuo
Chapter book (160 pages), Little, Brown Books for Young Readers, 2011.
ISBN: 978-0316070386
Okay, so this book comes out in a few weeks, and it's not really middle grade, it's more of a chapter book, but I sure did enjoy it! The art is charming and works really well with Jenny Han's voice, which I became smitten with in MG books like SHUG and teen reads like THE SUMMER I TURNED PRETTY. If you're new to chapter books or unsure of the genre, please do check this one out. It's full of humor and heart and just right for this in-between age group!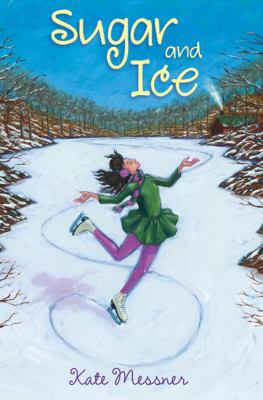 SUGAR AND ICE
by Kate Messner
Middle grade (288 pages), Walker Books for Young Readers, 2010.
ISBN: 978-0802720818
Kate Messner is a MG rock star. She has a smart, literary voice that manages to blend emotional resonance and great, unique plots. Messner is a client of my colleague, Jenn Laughran, and has a long career ahead of her. For all of those writers aspiring to the MG shelves, this latest installment and her previous MG, THE BRILLIANT FALL OF GIANNA Z, should be at the top of your "To Read" list. SUGAR AND ICE has a frosty, seasonal setting, too, so it's perfect for cozying up with, as long as you have a cup of cocoa on hand.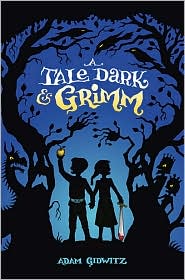 A TALE DARK AND GRIMM
by Adam Gidwitz
Middle grade (192 pages), Dutton, 2010.
ISBN: 978-0525423348
This is an example of what's possible with MG, and how dark and funny you can really get. Adam Gidwitz certainly knows his Brothers Grimm, and he's not afraid to take unsuspecting readers on a twisty and, at times, hilarious-even-though-you're-totally-grossed-out look at the "fairy tales" we all think we know. And the scenes of carnage are described with such…well…good cheer! Just perfect for the holidays! For all those writers who have very active narrative voices — where the narrator is part of the tale, a la Lemony Snicket — this should be an especially exciting read. I devoured this book in one sitting and loved the voice.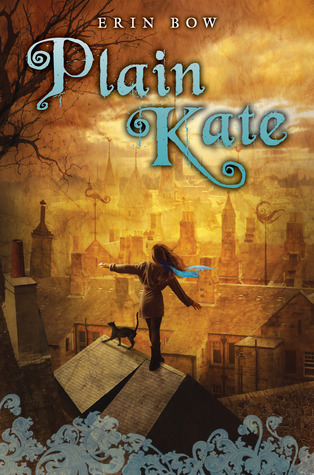 PLAIN KATE
by Erin Bow
Middle grade/YA (336 pages), Arthur A. Levine Books, 2010.
ISBN: 978-0545166645
A lot of people say that PLAIN KATE is YA, but I think this skews more toward MG. Even though there are very dark elements to this story (and poignantly so, not like the rollicking darkness of GRIMM, above), I think this type of fantasy adventure is more at home on MG shelves. Either way, MG or YA, PLAIN KATE is one of the most jaw-droppingly gorgeous books I've read all year. As you may know, I, uh, read a lot in my line of work. With most books, I'm sad to say, I tend to skim and hurry, anxious to get on to the next book in my teetering "To Read" pile. With this one, I savored each page, anxious, again, but for a very different reason: I didn't want it to end. Erin Bow's prose is breathtaking. Sublime. There's a word choice on every page that made me sit back and pause. I can't recommend this book enough.
Young Adult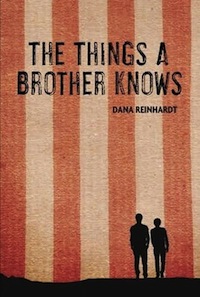 THE THINGS A BROTHER KNOWS
by Dana Reinhardt
Young adult (256 pages), Wendy Lamb Books, 2010.
ISBN: 978-0375844553
This book is, to sound like a cheap action movie reviewer, an "emotional tour de force." While I can't find the right words to describe Levi and Boaz's fractured, fragile brotherly relationship after Boaz returns from war, we're all lucky that Dana Reinhardt has fared a little better and written a whole book of not only words, but thoughts, images, and vitally important scenes on the subject. Reinhardt probes this relationship without once flinching…she portrays a sobering, lonely truth that could be happening in houses all across the country as veterans return to their families.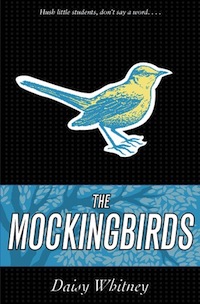 THE MOCKINGBIRDS
by Daisy Whitney
Young adult (352 pages), Little, Brown Books for Young Readers, 2010.
ISBN: 978-0316090537
Daisy Whitney tackles the difficult subject of date rape and its aftermath with courage and an intellectual rigor that is refreshing to see on the YA shelves. What I loved about this book is that Whitney, as a writer, didn't take the easy way out. What would've been the easy plot? Girl wakes up bleary-eyed and realizes that she's been raped. For MOCKINGBIRDS, that's just the first chapter. Then Whitney takes off to explore a whole other story that's there. What happens to Alex is only the beginning to a story that explores justice, truth, and empowerment in a very interesting way. A well-written, meaty read, and an inspiration for YA writers to think past the obvious plot.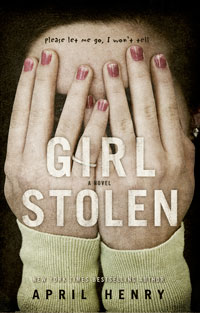 GIRL, STOLEN
by April Henry
Young adult (224 pages), Henry Holt Books for Young Readers, 2010.
ISBN: 978-0805090055
I'm a huge fan of April Henry's writing. In this gripping, thrilling YA, she takes on a challenge that most writers would easily shy away from: her narrator is a blind girl. What does that mean? It means that there's some masterful, unexpected description in this book. What else? It's really easy to ratchet up the stakes and tension. What happens to our dear blind girl? Does she enjoy a nice sit, safe on a couch somewhere? Bad news: she's kidnapped. Worse yet: she's sick. And did I mention she's blind? Reading GIRL, STOLEN is like a three-hour-long anxiety attack, and I loved every minute of it. Read this for a very elegant lesson in pacing and tension…and to see how a writer fares when her powers of visual description are taken away.
THE REPLACEMENT
by Brenna Yovanoff
Young adult (352 pages), Razorbill, 2010.
ISBN: 978-1595143372
When you pick up THE REPLACEMENT, you won't get the usual faerie/changeling story that you've gotten used to elsewhere on YA shelves. What I especially loved about this well-written, dark debut is its atmospheric quality. Can't you tell from the Edward Scissorhands/Tim Burton-inspired cover? From word choice to descriptions to imagery and plot, Yovanoff weaves a cohesive, eerie, engrossing read. This has the whiff of dystopian about it, but not in the way that's already becoming boring in the marketplace. This is a unique, fresh take, and I will remember certain twisted, macabre scenes from this book for a very long time to come. Plus, the cover rocks. 🙂 (I'm easily amused by shiny objects…)
Books that I also loved but that are buzzed about enough elsewhere: THE DUFF by Kody Keplinger, CONFESSIONS OF THE SULLIVAN SISTERS by Natalie Standiford (I adore her voice, as always!), and ANNA AND THE FRENCH KISS by Stephanie Perkins (Yes, it is as delightful and smart and romantic as everyone says it is, go read it right now!).
Writing Resources
Earlier this year I wrote up reviews for SPILLING INK and WRITING GREAT BOOKS FOR YOUNG ADULTS. If you haven't given yourself the gift of both of these, what are you waiting for?! I'll also recommend two writing books that are a must for every writer's shelf. These two are not new, by any means. But they are the books I've been recommending for years. If you don't have these, you owe it to yourself this holiday season to correct that mistake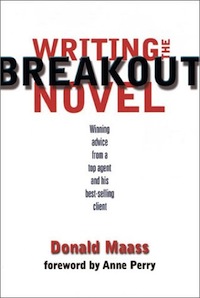 WRITING THE BREAKOUT NOVEL
by Donald Maass
Writer's Digest Books, 2002.
ISBN: 978-1582971827
Hands down, one of the best fiction craft books I've ever read. In fact, I read and reread this about every six months to make sure I'm being as comprehensive as possible in my revision notes to clients. Each time I read it, I am reminded of important novel-writing elements, and I never fail to learn something new or see something in a new way. If you haven't read this yet, that's okay. I forgive you, and I hope you can forgive yourself. Don't just buy this for yourself, buy it for everyone in your critique group or writing workshop. Then use it to guide revision or shape your thinking about any new projects in your pipeline. You're welcome!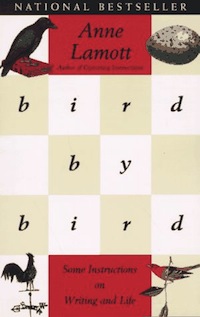 BIRD BY BIRD: SOME INSTRUCTIONS ON WRITING AND LIFE
by Anne Lamott
Anchor Books, 1995.
ISBN: 978-0385480017
I know I won't be blowing anyone's mind when I say that writers sometimes have issues. Jealousy, insecurity, blocks, procrastination, rejection angst…it can get pretty ugly at the keyboard sometimes. When I'm feeling overwhelmed or like I've lost perspective, I like to sit with BIRD BY BIRD for a while. Anne Lamott has a nearly hypnotic writing style — warm, wise, filled with gentle faith that never preaches or hits you over the head (Much like a good picture book text! I digress…). These personal essays, musings, and reflections, as the tag line says, "on writing and life" are a joy to read, especially after you've pushed yourself too hard or gone through a particularly difficult period in your writing journey. While, on a craft level, there's nothing revolutionary here, it's still worth a read. And it's highly inspirational. A great gift for any aspiring writer.
***
Whew! I hope you like these recommendations, as this is probably the longest and most time-consuming article I've ever written for the blog. What can I say, though? There's a lot to love out there! For the purposes of this post, I've either purchased all of these books or received advance review copies for free from the publishers. Happy holidays, dear readers, and happy shopping!
Tags: Highly Recommended, Middle Grade, Picturebook, Young Adult