For those of you who don't know, the ALA (American Library Association) hosts two big nationwide conferences each year, the Midwinter in January or February and the Annual in June (this year's Annual is in New Orleans, so you better bet your bottom dollar that I'll be there!). Just like BEA (May) is mostly an expo for booksellers to come and interact with publishers, marketers, and book-related service providers — and get geeky about big name authors who come to sign stuff — the ALA conferences cater to librarians. The Midwinter is also the conference where they announce award winners like the Morris, the Printz, the Newbery, and the Caldecott. (Which they're doing in, like, an hour and a half!)
Aspiring writers don't need to go to these conferences, but agents and rights people often show up to support their authors who may be making appearances, to take meetings with editors who are working the booths, and to troll the various publisher's stations to see what'll be new and upcoming on the shelves.
This weekend started with the rather hilarious JetBlue flight from JFK. It was one of the only direct flights to get to California at a reasonably early hour, so everyone in publishing had the same idea. There were at least 25 other industry people on the plane. I sat next to a wonderful editor, with another behind me, and an agent across the aisle, and that was just row 9! We got to San Diego for the floor opening, walked around, went to a Holiday House party, and then launched into meetings in earnest. I'd say my colleagues Jen Rofe, Kelly Sonnack, Jamie Weiss Chilton and I met with about 20 editors officially, but ran into tons more at the convention center.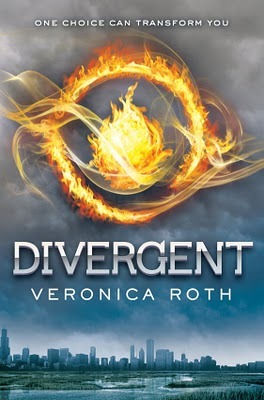 The best part, though, and this I'll freely admit, was the ARC fever. Not only did the librarians have it, but I came down with a case myself. The hottest ARC on the floor, in my opinion? The upcoming dystopian YA novel DIVERGENT by Veronica Roth. I'd already read it but snagged a copy to send to a client.
Overall, I got maybe six tote bags full of ARCs and F&Gs ("folded and gathered," a preview format for picture books). I also got a great haul of finished picture books from our Little, Brown breakfast, including some favorites that I'd never actually had in my library, like CHILDREN MAKE TERRIBLE PETS by Peter Brown and SHARK VS. TRAIN by Chris Barton and Tom Lichtenheld.
I also saw a picture book that I'd somehow missed in 2010 and it is, no joke, my favorite picture book EVER. (I know I have a new "favorite picture book EVER" every few months or so, and it doesn't include any picture books by my clients, because those are my favorite picture books EVER EVER, but this is still a wonderful designation that I save for only my rare beloveds.)
It's called I'M THE BEST and it's by author/illustrator (and Maisy creator) Lucy Cousins. I gravitated to it right away because its adorable cover and deceptively simple art called right out to me from the Candlewick booth. (Seriously, an untrained eye can look at this art and say, "I can do that with my eyes closed," but it is so much more sophisticated than that.) Once I opened it up, I discovered a pitch-perfect, absolutely true-ringing kid voice in the character of Dog, who loudly proclaims he's the best at everything…except maybe being a humble and generous friend. It's amazing. Buy it right this second.
Finally, my colleagues and I walked around snapping pictures of ourselves with books by our clients. Here you'll find Jamie with ORCHARDS by Holly Thompson, out from Delacorte/Random House on February 22nd. It's a brilliant YA novel in verse about one girl's experience with a classmate's suicide and her own mixed Japanese-Jewish-American heritage.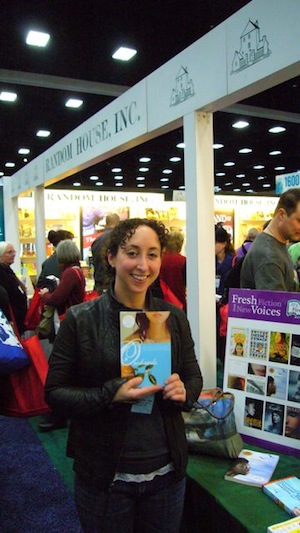 Next is Kelly, who we snapped with two books on the Candlewick shelves. I haven't read either, but they're last year's TAKE ME WITH YOU by Carolyn Marsden (right) and the upcoming WHAT COMES AFTER by Steve Watkins, which hits stores in April (left).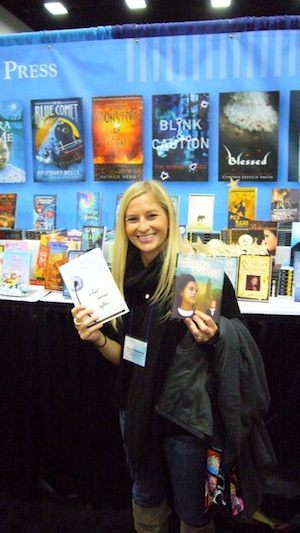 Here's Jen Rofe with her very, very exciting book from Balzer+Bray/HarperCollins, called HOW LAMAR'S BAD PRANK WON A BUBBA-SIZED TROPHY by Crystal Allen. It's a hilarious middle-grade story about an African-American kid, and superstar bowler, who just wants the same recognition as his all-star athlete older brother. Harper had a HUGE pile of ARCs out (which I, of course, called LamARCs…) and they were all snapped up within the first fifteen minutes of the expo. It's out February 22nd as well, so you can snap up a copy for yourself.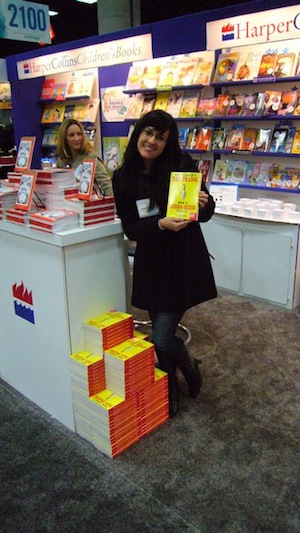 Since this is my blog, you'll have to look at my mug TWICE. First, I stopped to take a peek at a client's book from Tricycle Press that he actually sold before we started working together. It's the wonderful WHY DO I HAVE TO MAKE MY BED? by Wade Bradford (illustrated by Johnanna van der Sterre), out on the very popular day of February 22nd. It recently got a very nice starred review in Publisher's Weekly, and I hope to report many sales for Wade in the future.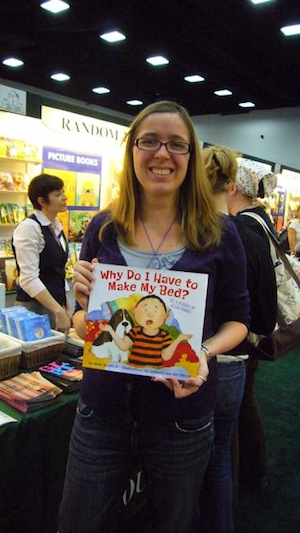 Finally, it was so cool and gratifying to see my very first book out on the display table! The book is PELLY AND MR. HARRISON VISIT THE MOON, an author/illustrator project from Lindsay Ward, out in March from Kane/Miller. This is a charming story of a girl and her dog who visit the moon in a rocket bathtub, and it's the first contract I ever did. Lindsay and I have since sold one other project, to Dutton/Penguin, and her editor and I had a fantastic lunch on Saturday. I'm so excited for PELLY, Lindsay, and, truth be told, myself, as you can see! (I even inadvertently wore a matching purple sweater!)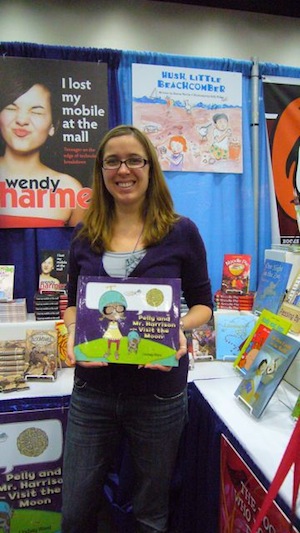 I'm, unfortunately, still on east coast time, so I'm sitting in my colleague's bathroom right now, blogging (maybe TMI, but doesn't anyone else go turn the lights on in the bathroom and do stuff when it's too early and they don't want to bug other people?). I'm horrible at going back to sleep and it's 6 a.m. in California, so I guess I'm just going to hang out and wait for ALA award news to start coming down the wire at 7:30. Overall, though, I had a tremendously fun weekend with colleagues and friends in San Diego, and can't wait to relax at home in San Francisco later this afternoon. Hope you all had a great weekend!
Related posts:
Tags: ALA, Client Books