Thank you so much for all your comments and love for yesterday's post. I think the worst thing now is that, with the weather, the building is shifting and I keep thinking about Sushi's distinctive, heavy, ungraceful footsteps. A fat cat all her life, she plodded along more than walked, to the point where we had our own goofy sound effects to sing, lovingly, of course, as she made her way across a room. I kept expecting her to come back last night and crawl her way onto the bed in her usual spot. Sigh.
In other less depressing news, I wanted to do a quick wrap-up of the SCBWI NYC conference which happened Friday, Saturday, and Sunday at the Grand Hyatt in Midtown. No SCBWI conference post can be complete without a link to Team Blog, which detailed the events of the show with pizazz. Led by Alice Pope, Team Blog features my two good friends Lee Wind and Suzanne Young (who did her own wrap-up with some pictures), and posts about every session of the conference. Since I missed some sessions, even I read it for recaps.
My big involvement in the conference was the Writer's Intensive on Friday. We had two groups of writers, about 8 or 9 to a table, and 12 minutes each for everyone to read and critique a 500 word writing sample. This is the kind of hands-on workshopping that I love, and it's what we do at the Andrea Brown Literary Agency's Big Sur Writer's Workshop (coming up in March, and I'll be there, even if I'm not on the website, click here for more information). I feel like a big keynote session is great, but there's nothing quite like getting to look at your own sample and other writing samples from real, live attendees.
I'd say my biggest note to all writers after those two sessions is: Where does your story start? Are you really starting it where it needs to begin? Across both sessions, I saw writers who started a story in one place and then, within 500 words, had either skipped over to another different part of the story or flashed back to the past. That's not what I'd call grounding your reader. If you find yourself jumping around too much in the first 10 pages of your work, you haven't chosen the right beginning yet.
After that, I was free to meet up with friends…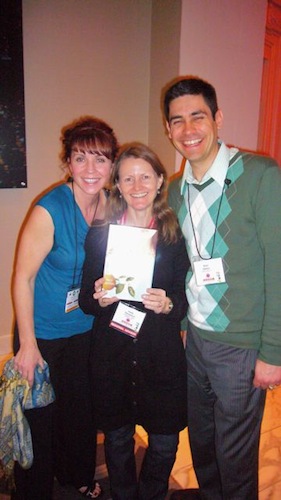 … like the lovely Tracy Clark (who is one of the first people I met at my first ever writer's conference, when I went as an attendee!), Holly Thompson (SCBWI Regional Adviser for Japan, where I'm going in the fall, ABLA agency client, and author of the upcoming ORCHARDS, out from Delacorte/Random House), and frequent Big Sur attendee, Bret…
… or perhaps a lovely lady by the name of Ellen Hopkins? Ellen is an agency client, a bestselling author, and the dedicated RA for Nevada, where she runs an amazing mentor program. Not only did we hang out at the conference, but we caught a live taping of the Daily Show on Monday. That night's guest? Bill freakin' Gates. I feel so much smarter now that I've been in the same room as him…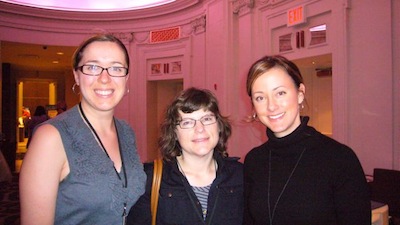 … or maybe Sara Zarr and Sonia Gensler? Sara's famous or something because I hear she wrote some books or whatever. 🙂 She's been a Big Sur guest and we spent a week in Utah together last year at the WIFYR conference, which I'm doing again this year. Sonia is an agency client and about to be published! Her book THE REVENANT comes out from Knopf/Random House in April.
Another cool thing I did is a blog reader meet-up with about a dozen of my readers who happened to be at the conference. (Need I mention they were all brilliant and incredibly good-looking? :P) We didn't have a cool Twitter hashtag like Team Blog did, but we did chat in the lobby for about an hour and a half on Saturday night. Thank you so much to all of you who came out: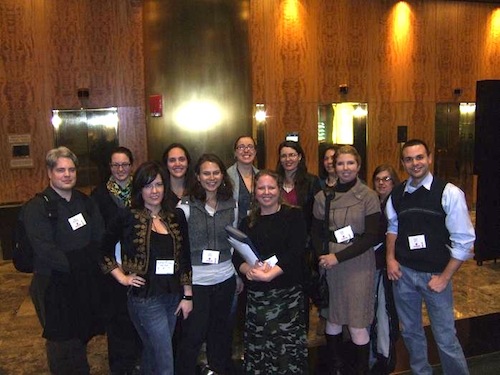 Plus, I finally got to meet my smart, talented, gorgeous, and incredibly awesome client, Mandy Morgan!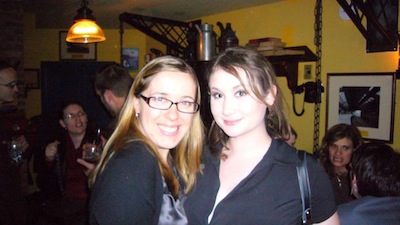 I didn't go to too many sessions this year because I was just so gosh darn busy socializing. I think expecting my cat to die at home really kept me out of the house this weekend, a good and bad thing. I did pop in to the workshop from Alessandra Balzer, from Balzer+Bray, an imprint of HarperCollins, and I made a childhood dream come true by seeing R.L. Stine's lunch keynote on Saturday. As Stine is a horror writer, I truly intend to make a pun when I say that he killed it! He was so funny and warm and charming and he read some of his best "reviews" from kid readers who wrote him to say incredibly candid things. A wonderful keynote! Here's my obligatory fan pic: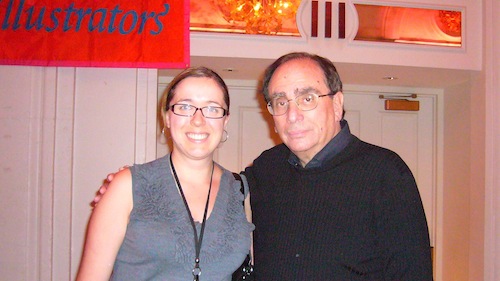 Other friends of note are Bryan Bliss and poor Mr. Jeff, who now knows never to meet me at an Irish pub, and the wonderful team from SCBWI Western Washington, who took me to a lovely lunch. A huge shout-out of thanks to Kimmy T. who invited me to the Writer's Intensive in the first place!
Good thing the LA National SCBWI conference is coming up in August…I don't think I can bear to be without all my wonderful kidlit friends for a whole other year! Any writers who are on the fence about going to either NYC or LA for one of the big SCBWIs, I think it's something you should experience at least once in your writing life, if not once a year.
***
Speaking of the SCBWI, registration for SCBWI Indiana, where I'll be speaking at the end of April, is now open. Click here to register and I'll see you there!
Tags: SCBWI, Writer Friends