It's easy to get caught up in the daily grind, the frustrations, the stress, the meetings, the slush, the traveling, the constant flood of emails, the endless readings of my work sometimes. Especially on cloudy days like today when it seems like the future stretching out in front of me is one long To Do list. Moments of inspiration come in the form of a brilliant project from one of my clients or from a potential future client, good news about a book that's been sold (like, yanno, Hollywood calling for my most recent sale, THROUGH TO YOU!), charming emails from my super-smart colleagues, moments with friends, really good books that I'm reading.
I'll have to add to the list the Friday and Saturday symposium portion of the Teen Author Festival last week. I heard several dozen authors, many of who are friends, speak about various issues important to YA fiction today. From hard issues like abuse and family, to a showcase of debut authors, to the thrills and tensions of young romance, as you can see in the picture below (l-r: Sarah Mylnowski, E. Lockhart, Terra Elan McVoy)…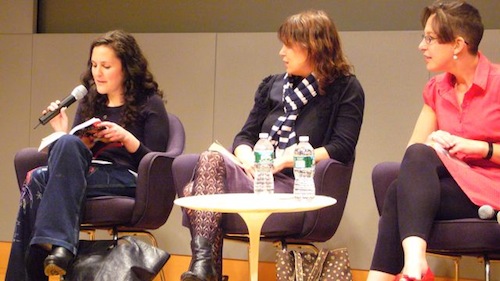 …to influences and one's literary inspirations, as you can see in the picture below (l-r: Adrienne Marie Vrettos, Maryrose Wood, Libba Bray, Susane Colasanti, Lena Roy, Carolyn Mackler, Barry Lyga)…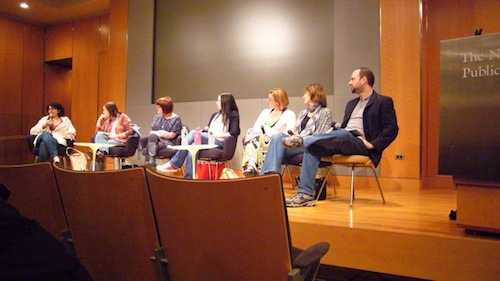 …to the struggle against the dark side, the internal and external darkness in a character's world (l-r: Robin Wasserman, Lisa McMann, Maggie Stiefvater, Kim Harrington, and David Levithan)…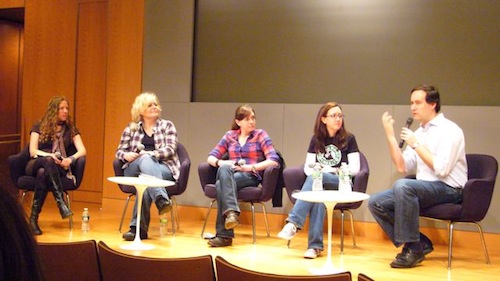 …to a brilliant panel on LGBT literature of the past, present and future with very special guest Michael Cart (l-r: Nick Burd, Jacqueline Woodson, Patrick Ryan, Michael, David Levithan, and Jack Martin).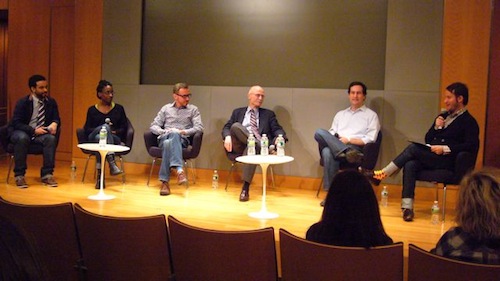 Not only is it inspiring to sit and hear writers talk about the craft, but Saturday afternoon especially, with a focus on LGBT YA, where it's been, where it is now, and where it's going, really helped me with some much-needed perspective after a stressful winter. The books that these authors (and many of you out there) are writing are essential. They're very often a young adult's fondest memory, their closest friend, their most trusted confidant, and, as I say every time I speak about YA, they really do have the power to change lives.
We can see this in most powerful YA books, especially those that take risks, feature characters who are marginalized, characters battling with some essential darkness, or otherwise being brave and strong and heroic in their lives, whether they're in a contemporary school setting or aboard a spaceship and hurtling toward the unknown. In other words: characters who are being themselves.
The best YA books (and MG books, and picture books) are a lens through which writers focus their world…both for the sake of the artist's creative journey, and for the sake of bringing clarity and understanding to readers' lives.
My often-mentioned and very favorite quote about children's books comes from Ursula Nordstrom:
The writer of books about the real world has to dig deep and tell the truth.
You can tell I love this quote because several of the posts I'm about to cite repeat it. Over my blogging "career," I've gotten frustrated with questions like "Can I swear in YA?" or "Can we feature sex in YA?" or "How many words exactly, and in what order, make the perfect query letter?" (an exaggeration, obviously) and whatever else mundane things people obsess over.
I know I talk a lot about publishing rules and guidelines and that I answer a lot of questions on this blog along those lines, which I'm very happy to do, but it doesn't hurt every once in a while to be reminded that we're all here for the sake of art and for the sake of teen readers. And that creativity and truth are the highest pursuits served by any artist, especially one reaching out to kids and teens. (For some really great soundbites on creativity, check out this lecture by Lady Gaga, who visited the Google campus in Mountain View, CA yesterday.)
The Teen Author Festival panels really reminded me of our true purpose here, at the end of the day (you can see the full schedule for the festival here, and I urge you to come next year if you can), and I'm grateful to have been inspired!
Tags: Writer Friends