Last year, I was happy to give away some copies of the 2012 Writer's Digest Children's Writer's and Illustrator's Market (think that's enough apostrophes?), which had several of my articles and even my blurb on the back cover. This year, I'm pleased to offer two copies to randomly selected entries in the comments. The 2013 edition is thoroughly updated and includes new articles and interviews with children's book professionals, including two more articles by yours truly. It is once again edited by Chuck Sambuchino and remains the best resource for children's writers and illustrators out there.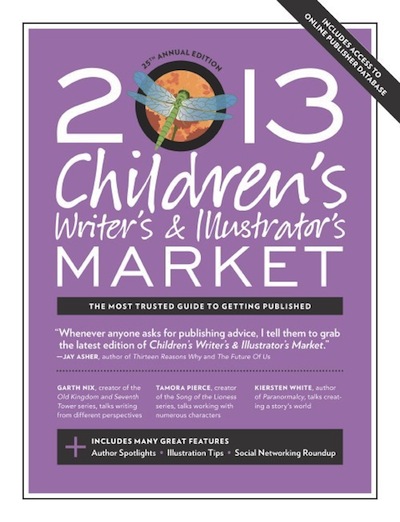 To win one of the two copies I have available:
1) Reach out about this contest to your social networks, whether with a blog post, Tweet, or FB post.
2) Comment on this entry with a link to your share. You don't have to include your email address in the post as long as you include it in the email field (private and for my eyes only).
3) Winners will be emailed for their mailing address. Only US residents (Alaska and Hawaii ok) at this time, unfortunately, as Writer's Digest will be sending copies to you, not me.
Deadline for entries is October 14th, and winner will be posted October 15th!
Tags: Contest