Looks like there᾿s nothing here, sorry. You might want to try the search function. Alternatively, return to the front page.
Order My Book!
WRITING IRRESISTIBLE KIDLIT: The Ultimate Guide to Crafting Fiction for Young Adult and Middle Grade Readers is available now from Writer's Digest Books!
Order your copy below:
And be sure to add it to your shelf and write a review on Goodreads! Thank you for all your support over the years!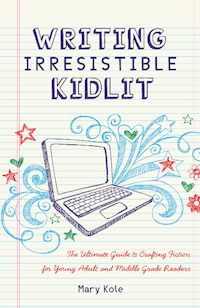 Freelance Editorial and Consulting Services
If you'd like more in-depth and personalized advice that I can give on this blog, please visit my
Mary Kole Editorial website
, to learn how you can work with me directly on your query letter, manuscript, or other writing-related project. Editorial inquiries can be sent directly to
marykoleeditorial@gmail.com
Questions?
Hey writers! I know that writing and publishing can be confusing. Not only do you have to hone your writing craft in today's market, you've also got to become savvy about the business end of things. I'd love to answer any questions you have. Please remember, anything you send can be featured on the site.
Just a note: I will only answer general questions about the craft of writing, agents, editors or publishing. Do not ask for feedback or critique, please. Also, please keep your questions to a reasonable length.
Writing Blueprints Promotion
Dedicated readers know that I don't advertise on this blog. There's only one exception: If I find a resource that I fully believe is worth your time and money, I will absolutely share it. That's exactly the case with the Writing Blueprints online courses, created by Children's Book Insider. The information here (currently there are courses for picture book and chapter book writers) is incredibly in-depth, the advice is rich and actionable, and the prices are reasonable. The interface is fun and easy to use. I have absolutely no qualms recommending this content to my readers.
Join my mailing list!
Sign up for my email list so that I can occasionally send you news and updates. I'll primarily use my list to keep readers up-to-date about upcoming events and workshops and I will never, ever sell or rent your information to anybody. You can unsubscribe from my list at any time.