I love teaching and working with writers to support their dreams and goals. WRITING IRRESISTIBLE KIDLIT: The Ultimate Guide to Crafting Fiction for Young Adult and Middle Grade Readers is a comprehensive craft manual with dozens of excerpts from popular novels that are used as teaching tools, interviews with book editors and published authors, and no-nonsense advice from my six years as a publishing insider and literary agent. This writing guide teaches aspiring middle grade and young adult novelists everything from character to plot to voice to the ever-popular subject of the query letter. (Picture book writers shouldn't hesitate to pick it up because many of its storytelling lessons apply to your work, too!)
Even though I've been running this blog since 2009, the content in this guide is never-before-published. It was a dream come true and an absolute joy to put it together for my readers. I hope my passion for teaching the writing craft comes through on every page, and that you add this book to your resource library. It is available now from Writer's Digest Books, and you can order it from Amazon by clicking here or order it from the Writer's Digest Shop by clicking here.
Thank you so much for your support over the years, and happy writing!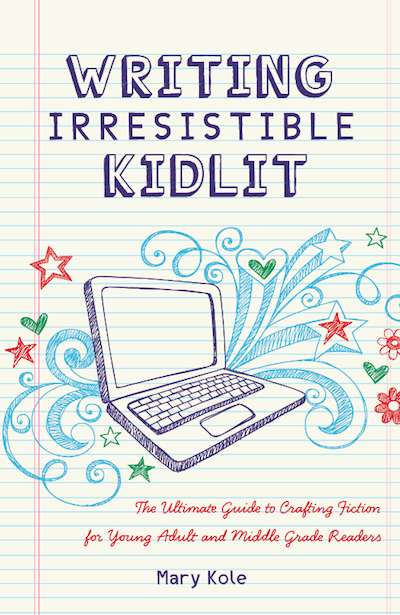 Because of popular demand, I've put together a list of other resources for writers.
Web Resources!
Agent Search Resources and Writing Communities
Here's a list of websites that will be helpful to writers on the agent search. There are some great websites and blogs here, and all are worth a read, whether you're actively searching for agents or a writer in any stage of the game.
Manuscript Wish List: www.manuscriptwishlist.com
A great and frequently updated resource that collects wish lists from agents and publishers. Add this to your research and see if you can catch the right gatekeeper at the right time with your project. Also check out the #mswl hash tag on Twitter!
AAR: www.aaronline.org
The Association of Authors' Representatives is a list of member agencies that have joined and agree to abide by ethics codes and standards. Andrea Brown was one of the co-founders of the AAR.
Absolute Write: www.absolutewrite.com
Absolute Write is a message board for all writers (not just children's) where writers discuss the agent search, response times, rumors, etc. A great place to vent and get the inside scoop from other people on the agent search.
Literary Rambles: caseylmccormick.blogspot.com
Agent Spotlight is a feature of writer Casey McCormick's ambitious and, well, slightly fanatical roundup of an agent's interviews, web presence, and submission information. It's a careful analysis of an agent and their reputation in the marketplace. You can see the agents she has done in her left-hand sidebar. Worth a read. She must be a researcher or a librarian or something, because the amount of work that goes into each article seems staggering!
Agent Query: www.agentquery.com
A searchable database of agents where you can use the Advanced Search function to narrow down the results to an agent's specific tastes. Want someone who represents both fantasy and young adult? Check the boxes and see who fits your criteria. There are other things you can search for, too. Results give you contact information and recent sales.
Guide to Literary Agents: www.guidetoliteraryagents.com/blog
Writer's Digest keeps this great blog where he profiles agents, introduces new agents to the writing community, interviews writers about their agents and otherwise talks about agents! It's a really fun, informative resource.
Query Tracker: www.querytracker.com
This is a pretty similar website to Agent Query (above), but it also lets you organize and track your query and submission status. What people were once doing with spreadsheets is now online! There's also, I think, a community element to this where you can interact with other writers.
SCBWI Blog: scbwi.blogspot.com
The SCBWI blog (more on the SCBWI, below) is a great place to learn about market news, publishing news, and to see interviews with writers, agents, and editors.
SCBWI Boards: www.scbwi.org/boards/
A message board that has become a hub for children's writers. Get an account and dive into this helpful forum community. You can post anonymously to get answers to your toughest questions from this savvy group chock full of published writers.
Publishers Marketplace: https://www.publishersmarketplace.com/
A paid resource ($25/mo) for agent and publisher research. They have lists for picture book, middle grade, etc. I recommend that everyone joins it for at least one month while doing research (you can always cancel at any time). You can see who's selling, how much, how often, to which publishers, etc. Agents sound great on paper on their websites, but I think track record is more telling. Same for publishers. Which ones are doing deals in your category?
Societies and Memberships
Author's Guild: www.authorsguild.org
A paid membership for published authors or freelance writers. I mention this because they offer health insurance (at an additional monthly premium) and, if you live in a state where health care is very expensive and have a book deal but no other resources for insurance, they may be an option for a group plan. They also offer other resources and services.
SCBWI: www.scbwi.org
The Society of Children's Book Writers and Illustrators is the largest and most active society for children's writers and artists in the US and abroad. They have chapters in each state (some smaller regions combine states) and throw two huge national conferences a year, in NYC and LA. The SCBWI is a very passionate group of writers, authors, artists, and volunteers and they also throw regional events with agents and editors. You can also connect with other members on their website, come to events and get professional critique, and otherwise better your craft in a huge and welcoming community. There is an annual fee to be a SCBWI member.
Recommended Books!
Here are recommended books about the publishing marketplace, the craft of writing and my favorite books in the three main age ranges of children's publishing.
Market Books
These books list agents, publishers, magazines, and other publication opportunities. Some are specific to children's writers, others aren't. The Writer's Market books are also available online in a searchable database that you can join instead: www.writersmarket.com.
CHILDREN'S WRITER'S AND ILLUSTRATOR'S MARKET (Writers Digest Books, updated every year)
GUIDE TO LITERARY AGENTS (Writers Digest Books, updated every year)
WRITER'S MARKET (Writers Digest Books, updated every year)
Craft Books
Books on the craft and art of writing. All of these are worth a careful read.
BIRD BY BIRD by Anne Lamott (Anchor, 1995)
ON WRITING by Stephen King (Scribner, 10th anniversary ed. 2010)
REVISION AND SELF-EDITING by James Scott Bell (Writers Digest Books, 2008)
SPILLING INK by Anne Mazer and Ellen Potter (read my review)
WRITING GREAT BOOKS FOR YOUNG ADULTS by Regina Brooks (read my review)
WRITING THE BREAKOUT NOVEL by Donald Maass (Writers Digest Books, 2002)
Picture Books
Books for readers ages 3-5 and 5-7. Some of my absolute favorites in terms of both art and text.
Anything by Oliver Jeffers, Amy Krause Rosenthal (I love LITTLE OINK*), Mac Barnett (I love GUESS AGAIN*), Peter Brown, Marla Frazee (check out the brand new BOSS BABY, I love it!), Adam Rex, and Mo Willems.
HARRY AND HORSIE by Katie Van Camp and Lincoln Agnew (Balzer + Bray/HarperCollins, 2009)
BUBBLE TROUBLE* by Margaret Mahy and Polly Dunbar (Houghton Mifflin, 2009)
THE ARRIVAL by Shaun Tan (Arthur A. Levine/Scholastic, 2007)
RED SINGS FROM TREETOPS by Joyce Sidman and Pamela Zagarenski (Houghton Mifflin, 2009)
MAGIC BOX by Katie Cleminson (Hyperion, 2009)
KITTEN'S FIRST FULL MOON by Kevin Henkes (Greenwillow/HarperCollins, 2004)
DIARY OF A WOMBAT by Jackie French and Bruce Whatley (Clarion, 2003)
MATHILDA AND THE ORANGE BALLOON by Randall de Seve and Jen Corace (Balzer + Bray/HarperCollins, 2010)
BEAVER IS LOST by Elisha Cooper (Schwartz & Wade/Random House, 2010)
DUCK & GOOSE and HOW ROCKET LEARNED TO READ by Tad Hills (Schwartz & Wade/Random House, 2010)
WAG! by Patrick McDonnell (Little, Brown, 2009)
A BOOK OF SLEEP by Il Sung Na (Knopf/Random House, 2009)
SWIM! SWIM! by Lerch (Scholastic Press, 2010)
RHYMING DUST BUNNIES by Jan Thomas (Beach Lane/Simong & Schuster, 2009)
SO MANY DAYS by Alison McGhee and Taeeun Yoo (Atheneum/Simon & Schuster, 2010)
MY MOM IS TRYING TO RUIN MY LIFE by Kate Feiffer and Diane Goode (Paula Wiseman/Simon & Schuster, 2009)
ALL THE WORLD by Liz Garton Scanlon and Marla Frazee (Beach Lane/Simon & Schuster, 2009)
Plus, you should check out A GARDEN FOR PIG (Kane/Miller, 2010) by Kathryn Thurman and illustrated by my client Lindsay Ward! It's a fantastic book and a new fall favorite.
Middle Grade
Before you sit down to write your middle grade, check out this excellent blog post from MG author Laurel Snyder here.  Most MG stories are marketed to kids between 9 and 12, but as you can see from Laurel's post, there is a lot of wiggle room for who is actually reading and resonating with them. I'd say keep your character 13 and under to reach this demographic. You'll also notice that all of my recommendations are recent…that's because I want you to be familiar with what is publishing right now. Here are just some of my favorite titles!
VIOLET RAINES ALMOST GOT STRUCK BY LIGHTNING* by Danette Haworth (Walker/Bloomsbury, 2008)
WHEN YOU REACH ME by Rebecca Stead (Wendy Lamb Books/Random House, 2009)
THE PENDERWICKS: A SUMMER TALE OF FOUR SISTERS, TWO RABBITS, AND A VERY INTERESTING BOY by Jeanne Birdsall (Knopf/Random House, 2007)
HOLES by Louis Sachar (Farrar, Straus and Giroux/Macmillan, 2008)
WAYSIDE SCHOOL IS FALLING DOWN by Louis Sachar (HarperCollins, 1990) (I included this relatively old one because I used to looooove reading this in the 4th grade!)
LOVE, AUBREY by Suzanne LaFleur (Wendy Lamb Books/Random House, 2009)
THE BOOKS OF ELSEWHERE: THE SHADOWS by Jacqueline West (Dial/Penguin, 2010)
PLAIN KATE by Erin Bow (Arthur A. Levine Books/Scholastic, 2010) (This one is marketed as YA but I think it's a really good example of an older MG fantasy.)
STEINBECK'S GHOST by Lewis Buzbee (Feiwel & Friends/Macmillan, 2008)
FROM THE MIXED-UP FILES OF MRS. BASIL E. FRANKWEILER by E.L. Koningsburg (Aladdin/Simon & Schuster, 1967)
CHASING VERMEER by Blue Balliett, illustrated by Brett Helquist (Scholastic Press, 2004)
THE SERIES OF UNFORTUNATE EVENTS series by Lemony Snicket (Daniel Handler), also illustrated by Brett Helquist (HarperCollins)
A TALE DARK AND GRIMM by Adam Gidwitz (Dutton/Penguin, 2010)
ALVIN HO: ALLERGIC TO GIRLS, SCHOOL, AND OTHER SCARY THINGS* by Lenore Look, illustrated by LeUyen Pham (Schwartz & Wade/Random House, 2008)
ALCHEMY AND MEGGY SWANN by Karen Cushman (Clarion, 2010)
SAVVY by Ingrid Law (Dial/Penguin, 2008)
HOW LAMAR'S BAD PRANK WON A BUBBA-SIZED TROPHY by Crystal Allen (Balzer+Bray/HarperCollins, 2011)
MILLICENT MIN, GIRL GENIUS by Lisa Yee (Arthur A. Levine Books/Scholastic, 2003)
DRUMS, GIRLS, AND DANGEROUS PIE* by Jordan Sonnenblick (Scholastic Press, 2005)
BECAUSE OF WINN-DIXIE by Kate DiCamillo (Candlewick, 2000)
SUGAR & ICE by Kate Messer (Walker/Bloomsbury, 2010)
CLEMENTINE series by Sara Pennypacker, illustrated by Marla Frazee (Disney-Hyperion)
THE BOOK THIEF by Markus Zusak (Knopf/Random House, 2005)
PERCY JACKSON AND THE OLYMPIANS series by Rick Riordan (Disney-Hyperion)
HARRY POTTER series by J.K. Rowling (Scholastic)
Young Adult
There is so much YA out there that I love, so this is not a comprehensive list by any means. YA is usually for ages 12+, 14+ or even 16+ (for the very edgy titles). There are really no rules, and I've written a lot about issues like sex and swearing in YA on the blog, so check out those articles.
Anything by David Levithan, John Green (or David Levithan and John Green, as is the case with WILL GRAYSON, WILL GRAYSON), Libba Bray, Anna Godbersen (her series are my absolute guilty pleasure), Barry Lyga, Matt de la Pena, Frank Portman, and many more writers who I'm sure I'm forgetting at the moment.
FEED* by M.T. Anderson (Candlewick, 2002)
WINTERGIRLS by Laurie Halse Anderson (Viking/Penguin, 2009)
HOW I LIVE NOW by Meg Rosoff (Wendy Lamb Books, 2009)
BEFORE I FALL by Lauren Oliver (HarperCollins, 2010)
THE DUFF by Kody Keplinger (Poppy/Little, Brown, 2010)
UGLIES series by Scott Westerfeld (Simon Pulse/Simon & Schuster)
THE DISREPUTABLE HISTORY OF FRANKIE LANDAU-BANKS by E. Lockhart (Disney-Hyperion, 2008)
FLASH BURNOUT by L.K. Madigan (Houghton Mifflin, 2009)
HOLD STILL by Nina LaCoeur (Dutton/Penguin, 2009)
HOW TO SAY GOODBYE IN ROBOT by Natalie Standiford (Scholastic Press, 2009)
SPANKING SHAKESPEARE by Jake Wizner (Random House, 2007)
A NORTHERN LIGHT by Jennifer Donnelly (Harcourt, 2003)
THE MARBURY LENS by Andrew Smith (Feiwel & Friends/Macmillan, 2010)
GRACELING by Kristin Cashore (Harcourt, 2008)
THIRTEEN REASONS WHY by Jay Asher (Razorbill/Penguin, 2007)
THE MOCKINGBIRDS by Daisy Whitney (Little, Brown, 2010)
FOOD, GIRLS, AND OTHER THINGS I CAN'T HAVE by Allen Zadoff (Egmont, 2009)
SORTA LIKE A ROCK STAR by Matthew Quick (Little, Brown, 2010)
MAGIC UNDER GLASS by Jaclyn Dolamore (Bloomsbury, 2010)
BEFORE I DIE* by Jenny Downham (David Fickling Books, 2007)
THE CHOSEN ONE by Carol Lynch Williams (St. Martin's Griffin/Macmillan, 2009)
THE THINGS A BROTHER KNOWS by Dana Reinhardt (Wendy Lamb Books/Random House, 2010)
LIVING DEAD GIRL by Elizabeth Scott (Simon Pulse/Simon & Schuster, 2008)
WHAT I SAW AND HOW I LIED by Judy Blundell (Scholastic Press, 2008)
IF I STAY by Gayle Forman (Dutton/Penguin, 2009)
(If you see an asterisk, *, that means I read from this book sometimes when I give a talk or presentation, because I think it's an example of great voice! However, all of these books sing with great voices, or they wouldn't be my favorites.)