I love teaching and working with writers to support their dreams and goals. WRITING IRRESISTIBLE KIDLIT: The Ultimate Guide to Crafting Fiction for Young Adult and Middle Grade Readers is a comprehensive craft manual with dozens of excerpts from popular novels that are used as teaching tools, interviews with book editors and published authors, and no-nonsense advice from my six years as a publishing insider and literary agent. This writing guide teaches aspiring middle grade and young adult novelists everything from character to plot to voice to the ever-popular subject of the query letter. (Picture book writers shouldn't hesitate to pick it up because many of its storytelling lessons apply to your work, too!)
Even though I've been running this blog since 2009, the content in this guide is never-before-published. It was a dream come true and an absolute joy to put it together for my readers. I hope my passion for teaching the writing craft comes through on every page, and that you add this book to your resource library. It is available now from Writer's Digest Books, and you can order it from Amazon by clicking here.
Thank you so much for your support over the years, and happy writing!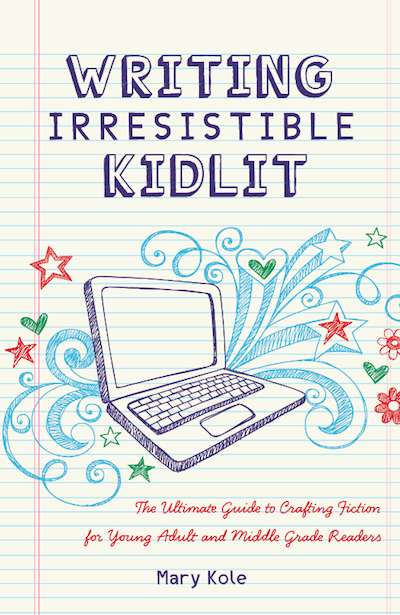 Because of popular demand, I've put together a list of other resources for writers.
Web Resources!
Agent Search Resources and Writing Communities
Here's a list of websites that will be helpful to writers on the agent search. There are some great websites and blogs here, and all are worth a read, whether you're actively searching for agents or a writer in any stage of the game.
Manuscript Wish List: www.manuscriptwishlist.com
A great and frequently updated resource that collects wish lists from agents and publishers. Add this to your research and see if you can catch the right gatekeeper at the right time with your project. Also check out the #mswl hashtag on Twitter!
AAR: www.aaronline.org
The Association of Authors' Representatives is a list of member agencies that have joined and agree to abide by ethics codes and standards. Andrea Brown was one of the co-founders of the AAR.
Absolute Write: www.absolutewrite.com
Absolute Write is a message board for all writers (not just children's) where writers discuss the agent search, response times, rumors, etc. A great place to vent and get the inside scoop from other people on the agent search.
Literary Rambles: caseylmccormick.blogspot.com
Agent Spotlight is a feature of writer Casey McCormick's blog, Literary Rambles, a roundup of an agent's interviews, web presence, and submission information.
Agent Query: www.agentquery.com
A searchable database of agents where you can use the Advanced Search function to narrow down the results to an agent's specific tastes. Want someone who represents both fantasy and young adult? Check the boxes and see who fits your criteria. There are other things you can search for, too. Results give you contact information and recent sales.
Guide to Literary Agents: www.guidetoliteraryagents.com/blog
The Writer's Digest blog with updates on new and existing agents.
Query Tracker: www.querytracker.com
This is a pretty similar website to Agent Query (above), but it also lets you organize and track your query and submission status. What people were once doing with spreadsheets is now online! There's also, I think, a community element to this where you can interact with other writers.
SCBWI Blog: scbwi.blogspot.com
The SCBWI blog (more on the SCBWI, below) is a great place to learn about market news, publishing news, and to see interviews with writers, agents, and editors.
SCBWI Boards: www.scbwi.org/boards/
A message board that has become a hub for children's writers. Get an account and dive into this helpful forum community. You can post anonymously to get answers to your toughest questions from this savvy group chock full of published writers.
Publishers Marketplace: https://www.publishersmarketplace.com/
A paid resource ($25/mo) for agent and publisher research. They have lists for picture book, middle grade, etc. I recommend that everyone joins it for at least one month while doing research (you can always cancel at any time). You can see who's selling, how much, how often, to which publishers, etc. Agents sound great on paper on their websites, but I think track record is more telling. Same for publishers. Which ones are doing deals in your category?
Societies and Memberships
Author's Guild: www.authorsguild.org
A paid membership for published authors or freelance writers. I mention this because they offer health insurance (at an additional monthly premium) and, if you live in a state where health care is very expensive and have a book deal but no other resources for insurance, they may be an option for a group plan. They also offer other resources and services.
SCBWI: www.scbwi.org
The Society of Children's Book Writers and Illustrators is the largest and most active society for children's writers and artists in the US and abroad. They have chapters in each state (some smaller regions combine states) and throw two huge national conferences a year, in NYC and LA. The SCBWI is a very passionate group of writers, authors, artists, and volunteers and they also throw regional events with agents and editors. You can also connect with other members on their website, come to events and get professional critique, and otherwise better your craft in a huge and welcoming community. There is an annual fee to be a SCBWI member.
Recommended Books!
Here are recommended books about the publishing marketplace, the craft of writing and my favorite books in the three main age ranges of children's publishing.
Market Books
These books list agents, publishers, magazines, and other publication opportunities. Some are specific to children's writers, others aren't. The Writer's Market books are also available online in a searchable database that you can join instead: www.writersmarket.com.
Children's Writer's and Illustrator's Market (Writers Digest Books, updated every year)
Guide to Literary Agents (Writers Digest Books, updated every year)
Writer's Market (Writers Digest Books, updated every year)
Craft Books
Books on the craft and art of writing. All of these are worth a careful read.
Story by Robert McKee
Dialogue by Robert McKee
The Anatomy of Story by John Truby
Bird by Bird by Anne Lamott
Rules for the Dance by Mary Oliver (with a focus on poetry)
On Writing by Stephen King
Revision and Self-Editing by James Scott Bell
Self-Editing for Fiction Writers by Renni Browne and Dave King
The Bestseller Code by Jodi Archer
Writer to Writer: From Think to Ink by Gail Carson Levine
Spilling Ink by Anne Mazer and Ellen Potter (aimed at younger writers, read my review)
Story Genius by Lisa Cohn
Writing Great Books for Young Adults by Regina Brooks (read my review)
Writing the Breakout Novel by Donald Maass
The Emotional Craft of Fiction by Donald Maass
Writing the Intimate Character by Jordan Rosenfeld
Save the Cat by Blake Snyder
Save the Cat Writes a Novel by Jessica Brody
The Magic Words by Cheryl Klein
Writing Picture Books by Ann Whitford Paul
Writing Magic by Gail Carson Levine
Picture Book
Books for readers ages 3-5 and 5-7. Some of my absolute favorites in terms of both art and text. In general, I recommend anything by Oliver Jeffers, Amy Krause Rosenthal, Mac Barnett, Peter Brown, Marla Frazee , Adam Rex, and Mo Willems.
Narrative Picture Books:
Harry and Horsie by Katie Van Camp and Lincoln Agnew
Kitten's First Full Moon by Kevin Henkes
My Mom Is Trying To Ruin My Life by Kate Feiffer and Diane Goode
Auntie Luce's Talking Paintings by Francie Latour
You're Snug with Me by Chitra Soundar
On a Magical, Do-Nothing Day by Beatrice Alemagna
No Boring Stories! by Julie Falatko
Mr. Tiger Goes Wild by Peter Brown
I Want My Hat Back by Jon Klassen

Issue Picture Books:
They All Saw a Cat by Brendan Wenzel (Perspective)
The Remember Balloons by Jessie Oliveros (Alzheimer's)
Lucía the Luchadora by Cynthia Leonor Garza (Gender)
Stolen Words by Melanie Florence (Losing heritage/identity)
Naked Trevor by Rebecca Elliot (Fitting in, looking like others)
Pink is for Boys by Robb Pearlman (Gendered expectations)
The Rough Patch by Brian Lies (Loss and grief)
Rhyming Picture Books:
The Honeybee by Kristen Hall
Three Grumpy Trucks by Todd Tarpley
The Dragon and the Nibblesome Knight by Elli Woollard
Hip-Hop Lollipop by Susan McElroy Montenari
Little Blue Truck by Alice Schertle
Bubble Trouble by Margaret Mahy
Rhyming Dust Bunnies by Jan Thomas
Nonfiction Picture Books:
Fur, Feather, Fin by Diane Lang
Everything & Everywhere: A Fact-Filled Adventure for Curious Globe Trotters by Marc Martin
The Eye that Never Sleeps: How Detective Pinkerton Saved President Lincoln by Marissa Moss
Lovely Beasts: The Surprising Truth by Kate Gardner
Do Not Lick This Book by Idan Ben-Barak
Mae Among the Stars by Roda Ahmed

Sweet Picture Books:
A Book of Sleep by Il Sung Na
So Many Days by Alison McGhee
All the World by Liz Garton Scanlon
You Are My I Love You by Maryann K. Cusimano
Concept Picture Books:
Boss Baby by Marla Frazee
Little Bitty Friends by Elizabeth McPike
Duck! Rabbit! by Amy Krause Rosenthal
Great Characterization Picture Books:
Coming On Home Soon by Jacqueline Woodson
My Little Car by Gary Soto
Peggony-Po: A Whale of a Tale by Andrea Davis Pinckney
Dona Flor: A Tall Tale About a Giant Woman With a Great Big Heart by Pat Mora
Wilfrid Gordon McDonald Partridge by Mem Fox
Miss Rumphius by Barbara Cooney
Early Reader and Chapter Book
Admittedly, the early reader and chapter book markets are tough. You can read more about my take here. But there are some great projects in these categories that you can investigate if you want to write for readers roughly ages six to nine.
Early Readers:
Dude! by Aaron Reynolds
What is Chasing Duck by Jan Thomas
Mr. Monkey Bakes a Cake by Jeff Mack
Oops, Pounce, Quick, Run: An Alphabet Caper by Mike Twohy
Elephant and Piggie Like Reading! It's Shoe Time! by Bryan Collier
Chapter Books:
The Time Twisters series by Steve Sheinkin
Ellie, Engineer by Jackson Pearce
Book Uncle and Me by Uma Krishnaswami
Gone Fishing: A Novel in Verse by Tamera Will Wissinger
Wayside School Is Falling Down by Louis Sachar
Alvin Ho: Allergic to Girls, School, and Other Scary Things by Lenore Look
The Clementine series by Sara Pennypacker
Middle Grade
Before you sit down to write your middle grade, check out this excellent blog post from MG author Laurel Snyder here.  Most MG stories are marketed to kids between 9 and 12, but as you can see from Laurel's post, there is a lot of wiggle room for who is actually reading and resonating with them. I'd say keep your character 13 and under to reach this demographic. You'll also notice that all of my recommendations are recent…that's because I want you to be familiar with what is publishing right now. Here are just some of my favorite titles!
Coming of Age Middle Grade:
The True History of Lyndie B. Hawkins by Gail Shepherd
The Mighty Heart of Sunny St. James by Ashley Herring Blake
Violet Raines Almost Got Struck By Lightning by Danette Haworth
The Penderwicks by Jeanne Birdsall
Love, Aubrey by Suzanne LaFleur
How Lamar's Bad Prank Won a Bubba-Sized Trophy by Crystal Allen
Because Of Winn-Dixie by Kate DiCamillo
Issue Middle Grade:
Paper Chains by Elaine Vickers (Adoption)
The Benefits of Being an Octopus by Ann Braden (Poverty and gun rights)
Wolf Hollow by Lauren Wolk (Bullying)
Adventure Middle Grade:
The Secret Keepers by Trenton Lee Stewart
York: The Shadow Cipher by Laura Ruby
Bronze and Sunflower by Cao Wenxuan
Historical Middle Grade:
The War that Saved My Life and The War I Finally Won by Kimberley Brubaker Bradley
Resistance by Jennifer Neilsen
The Night Diary by Veera Hiranandani
The Book Thief by Markus Zusak
Fantasy Middle Grade:
The Girl Who Drank the Moon by Kelly Barnhill
The House With Chicken Legs by Sophie Anderson
Aru Shah and the End of Time by Roshani Chokshi
Plain Kate by Erin Bow
The Books of Elsewhere: The Shadows by Jacqueline West
Savvy by Ingrid Law
Ogre Enchanted by Gail Carson Levine
Sci-Fi Middle Grade:
Last Day on Mars by Kevin Emerson
Bounders by Monica Tesler
The Wild Robot by Peter Brown
Mystery/Thriller Middle Grade:
Three Times Lucky by Sheila Turnage
The Wells & Wong series by Robin Stevens
The Mystery of the Clockwork Sparrow by Katherine Woodfine
When You Reach Me by Rebecca Stead
Holes by Louis Sachar
Chasing Vermeer by Blue Balliett
Strong Middle Grade Characters:
Pax by Sara Pennypacker
Amal Unbound by Aisha Saeed
Summerlost by Ally Condie
Middle Grade Fairy Tales:
The Emperor's Ostrich by Julie Berry
The Inquisitor's Tale: Or, Three Magical Children and Their Holy Dog by Adam Gidwitz
A Tale Dark and Grimm by Adam Gidwitz
The Ravenspire series by CJ Redvine
The Winternight series by Katherine Arden

Young Adult
There is so much YA out there that I love, so this is not a comprehensive list by any means. YA is usually for ages 12+, 14+ or even 16+ (for the very edgy titles). There are really no rules, and I've written a lot about issues like sex and swearing in YA on the blog, so check out those articles.
Contemporary YA:
Moxie by Jennifer Mathieu
The Serpent King by Jeff Zentner
Saints and Misfits by S.K. Ali
Before I Fall by Lauren Oliver
The Duff by Kody Keplinger
The Disreputable History of Frankie Landau-Banks by E. Lockhart
Flash Burnout by L.K. Madigan
Hold Still by Nina LaCoeur
How to Say Goodbye in Robot by Natalie Standiford
Food, Girls, and Other Things I Can't Have by Allen Zadoff
Sorta Like a Rock Star by Matthew Quick
Spanking Shakespeare by Jake Wizner
Multiple POV YA:
One of Us Is Lying by Karen McManus
Salt To The Sea by Ruta Sepetys
The Sun is Also a Star by Nicola Yoon
Issue YA:
The Hate U Give by Angie Thomas (Race)
The Pain Eater by Beth Goobie (Sexual assault)
Devils Within by S.F. Hanson (White supremacy)
Wintergirls by Laurie Halse Anderson (Eating disorders)
Thirteen Reasons Why by Jay Asher (Suicide)
The Chosen One by Carol Lynch Williams (Fundamentalist religion)
Before I Die by Jenny Downham (Terminal illness)
Fantasy YA:
Strange the Dreamer by Laini Taylor
Six of Crows and Crooked Kingdom by Leigh Bardugo
Frostblood by Elly Blake
Children of Blood and Bone by Tomi Adeyemi
Feed by M.T. Anderson
Graceling by Kristin Cashore
Magic Under Glass by Jaclyn Dolamore
Paranormal YA (New Wave):
The Dark Descent of Elizabeth Frankenstein by Kiersten White
Bruja Born by Zoraida Cordova
Sci-Fi YA:
The Forgetting by Sharon Cameron
Into the Dim by Janet B. Taylor
Skyward by Brandon Sanderson
Landscape with Invisible Hand by M.T. Anderson
The Uglies series by Scott Westerfeld
Historical Fantasy and Alternate History YA:
The Conqueror's Saga series by Kiersten White
Beyond a Darkened Shore by Jessica Leake
The Great Library Book series by Rachel Caine
The Gold Seer trilogy by Rae Carson
Historical Fiction YA:
The Pearl Thief by Elizabeth Wein
The Passion of Dolssa by Julie Berry
The House of One Thousand Eyes by Michelle Barker
A Northern Light by Jennifer Donnelly
What I Saw and How I Lied by Judy Blundell
Mystery/Thriller YA:
All the Truth That's in Me by Julie Berry
People Like Us by Dana Mele
Notes from My Captivity by Kathy Parks
Romance YA:
The Sun is Also a Star by Nicola Yoon
The Summer of Jodi Perez (and the Best Burger in Los Angeles) by Amy Spalding
Shame the Stars by Guadalupe García McCall
Miscellaneous
These types of stories are for young readers, whether chapter book, middle grade, or young adult age.
Novel in Verse:
The Poet X by Elizabeth Acevedo (YA)
Long Way Down by Jason Reynolds (YA)
Prince Puggly of Spud and the Kingdom of Spiff by Robert Paul Weston (MG)
Novel Adaptations:
The Dark Descent of Elizabeth Frankenstein by Kiersten White (Frankenstein)
My Plain Jane by Cynthia Hand, Jodi Meadows, and Brodi Ashton (Jane Eyre)
Rook by Sharon Cameron (The Scarlet Pimpernel)
Graphic Novels and Wordless Picture Books
The Arrival by Shaun Tan
Beaver is Lost by Elisha Cooper
Roller Girl by Victoria Jamieson
Nightlights by Lorena Alvarez
Castle in the Stars: The Space Race of 1869 and The Moon King by Alex Alice