I read a lot of books in my line of work. Most of them are unpublished, sure, but I still have to make time to keep up with the market. I read tons of ARCs (Advance Reader or Review Copies, sent by publishers to reviewers, bookstores and librarians before the book's release date… I get them through bookseller friends or at industry events) and already-published books. I used to do a lot more in terms of book reviews on here, but now I think I'll put together lists of my recent favorites a few times a year. In the spirit of Christmas, here's a quick and dirty last-minute Holiday Gift Guide with recommendations for some things I've read lately and loved.
Support the industry you want to work in by buying two copies of each of these… one for the favorite teen in your life and one as research for yourself, the writer!
***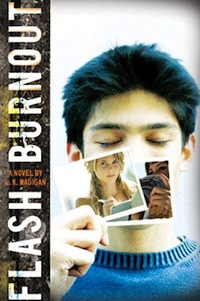 FLASH BURNOUT
by L.K. Madigan
Young Adult (336 pages). Houghton Mifflin, 2009.
ISBN: 978-0547194899
For Readers: You don't need lil' old me to recommend this book to you. It is a PW Flying Start, a finalist for the William C. Morris YA Debut Award and beloved by everyone. But I will anyway, because it is just that good. You will love Blake's voice. The main character manages to be hilarious and poignant from one moment to the next, a feat that's not easy to pull off. Author L.K. Madigan has crafted a story where you'll be frequently put-off by Blake and his choices, but you'll be rooting for him anyway, all while laughing your ass off. There are some sexual situations, so this might be a good fit for the older teen set.
For Writers: This is what I mean when I say "voice." A lot of you are still confused on that subject, or you want to see it in action. Just read this.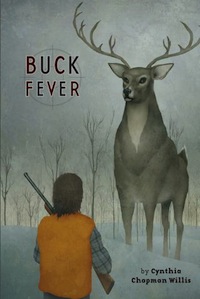 BUCK FEVER
by Cynthia Chapman Willis
Middle Grade (240 pages). Feiwel & Friends, 2009.
ISBN: 978-0312382971
For Readers: I feel like I have to include BUCK FEVER here because I don't usually cover a lot of MG and I don't usually cover a lot of boy MG especially. This book features an unlikely hero, a boy who isn't one of those self-conscious nerd geniuses like the character in FOOD, GIRLS, AND OTHER THINGS I CAN'T HAVE (Read my review). He's sensitive and shy and genuinely wants to make a difference in his world and to belong to his family, neither of which he's been able to do very well so far. A sensitively-written novel that'll appeal to both girls and boys, this MG pits its hero against a really big moral choice… and, in my opinion, that's the heart and essence of middle-grade right there.
For Writers: If you're writing more literary or more old-fashioned middle-grade, pick up BUCK FEVER because it puts to bed the myth that these kinds of books have to be slow and boring. There's a lot going on and the pacing moves briskly. There's also a great mix here of internal conflict, of the main character and his struggles to define himself and to live up to his father's expectations, and external conflict, with a local hunting family and the deer that he's supposed to kill. Yes, it's a hunting book, and that will turn some people off, but it's still worth a study.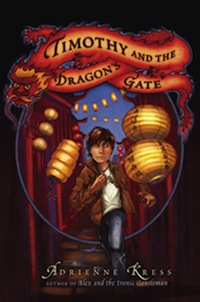 TIMOTHY AND THE DRAGON'S GATE
by Adrienne Kress
Middle Grade (368 pages). Weinstein Books, 2009.
ISBN: 978-1602861091
For Readers: Hilarious hijinks ensue in Adrienne Kress' second book. Middle-grade readers who want just the right touch of whimsy and don't want to dip their feet into wizards and dragons will love the author's unique take on fantasy/adventure. This will appeal to both boys and girls — a rare feat — and will leave readers clamoring for more. Good thing they'll find it in Kress' debut ALEX AND THE IRONIC GENTLEMAN, which shares characters and plot with the follow-up. Well worth a read!
For Writers: This is another example of great voice. Kress' work is a study in the self-conscious narrator. What do I mean by that? It's a narrator who is very much a part of the story him- or herself. They break the fourth wall, make asides to the reader and otherwise participate. The narrator's voice colors everything. Kress' books are also great middle-grade adventure novels with pirates, theatre, quirks galore. They're over-the-top and they're romps but there's also some serious craftsmanship going on. This style worked very well for Lemony Snicket and, if you want another hidden gem example, definitely pick up TIMOTHY.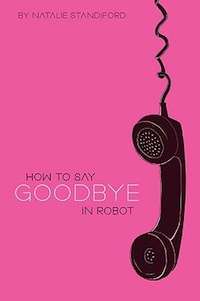 HOW TO SAY GOODBYE IN ROBOT
by Natalie Standiford
Young Adult (288 pages). Scholastic Press, 2009.
ISBN: 978-0545107082
For Readers: I have made no secret of my burning love for this book. It slays me. If I had read it in my incarnation as a geeky, profoundly introspective 15- or 16-year-old, it would've changed my life. I think it has pretty much done that anyway. This book is truly for those special readers: the observers, the quirk-ridden, the deep thinkers, the lonely hearts, the painfully awkward. And that's an amazing thing. I think this simultaneously heart-warming and heartbreaking story is one that will reach out of the pages and grab its readers, never to let them go.
For Writers: "Quirky" is such a cheap word now. Too many people think they have what it takes to write a truly quirky character and instead they emerge with a mish-mash of incomprehensible traits that don't make a fleshed-out person. Natalie Standiford has created characters who are almost too real. Their interests, their passions, their needs are achingly authentic. They are truly quirky, without being cute or contrived about it. And they don't harp on their quirks or their loneliness, like most other characters do. I don't know exactly what lesson a writer can take from this book. I've taken so many, over several rereadings, that I really do urge you all to just read it and discover it for yourself.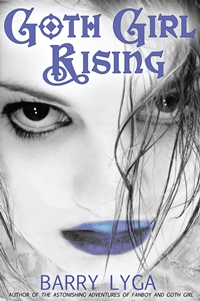 GOTH GIRL RISING
by Barry Lyga
Young Adult (400 pages). Houghton Mifflin, 2009.
ISBN: 978-0547076645
For Readers: Kyra won't be for everyone, but those who read her and resonate with her will carry her voice and her story for a very long time. Lyga's angsty, fully-formed character has been waiting for a chance to tell her story and I can't imagine a better one to showcase her side of things. Despite some very difficult and emotional moments throughout, the ending resonates will a rare, well-earned hope.

For Writers: Barry Lyga is a guy. But he writes an edgy teen girl with all the skill and conviction in the world. Many writers ask me if it's okay to step so far outside yourself to find a character's voice. Guy writers, especially, worry that they won't get credibility writing from a girl's POV. And I think that's a valid concern, especially for men writing a first-person woman (I think women writing from a guy's POV have it slightly easier in terms of criticism, as did L.K. Madigan in FLASH BURNOUT, above, but that's another bucket of fish). If you are finding your current first-person protagonist is a stretch for you, pick up GOTH GIRL RISING and see how seamlessly the writer a) maintains the writing voice he's well-known for, and b) slips on a whole new skin.
***
And for the love of goats, go buy these at your local independent bookstore or online at IndieBound.org.
For other books that I have loved this year, click on the "Highly Recommended" tag in my blog sidebar. You'll see things I've reviewed and loved from earlier.
Disclosures: This list includes friends as well as ABLit clients. Books have either been purchased by me, obtained at BEA, passed along from friends, or sent to me by the author in ARC form.