Agent rejection is still rejection, sure,  but if you stick to writing for any length of time, you'll soon begin to see that there are some nuances to getting turned down by an agent or editor. There are entire gradients of rejection and, the better your work, the higher you climb up the ladder toward that "yes" that you've been chasing.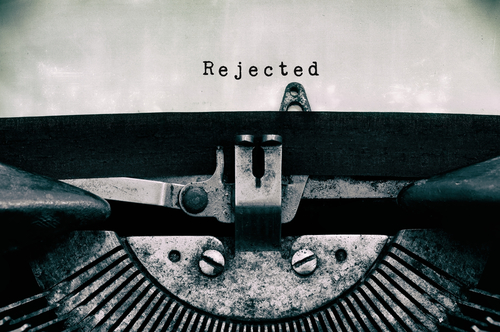 Types of Agent Rejection
Here are the basic kinds of rejection I used to give as a literary agent:
Form Rejection: I reject the project but don't give any feedback or thoughts. I will always personalize with your name and the name of your project but I don't say anything specific about it. This is usually what I send when the writing isn't solid enough, the voice doesn't grab me, the idea doesn't resonate, etc. You get one of these if your work is obviously not a fit for me, which I can tell almost immediately.
Personal Rejection: I still pass on the submission but provide general feedback. I will use this one either for a query that I thought had promise or an easily articulated flaw or sometimes for a full manuscript that falls short of what I was hoping for. Maybe the project shows potential but isn't right for my list — which isn't something the writer can help. Or maybe I have thoughts on how it could be improved before I'd consider representing it — which the writer can take into account if they wish. I don't give detailed editorial notes, however, because I think the project shows promise but might be a little too much work to get into.
Revision Rejection: This is only for cases where I've read the full manuscript. In this situation, I've spent some time with the project and give the writer specific notes for revision. If they were to revise, I say, I'd love to see it again.
As you can see, there are several types of agent rejection. The rule of thumb is, the more personal the rejection, the more time the agent or editor spent with your work. And the more potential and talent they see. A Personal Rejection and a Revision Rejection are like doors that are half-open to you.
See Rejections as Opportunities
You can turn the two more personal types of rejection into opportunities. An agent who sends you a Personal Rejection would probably be up for seeing your next project. An agent who sends you a Revision Rejection would probably be enthusiastic to see another version of your current one. Especially if they took the time to give notes. In the grand scheme of things, this is relatively rare, so definitely don't file it away as a simple "pass" and move on.
So keep querying and keep racking up those rejections. If you find yourself getting mostly Personal or Revision Rejections, that hard-won "yes" might not be too far behind.
Feeling unsure about your query letter, synopsis, or manuscript? Hire me as your freelance editor and we can work on your submission materials or dig deeper into your picture book, novel, or non-fiction proposal together.