These last few weeks have been very hectic for me for a wonderful reason! I just sold a really exciting deal for my debut author client Emily Hainsworth. As announced in Publisher's Weekly a week ago, and in PM this week, THROUGH TO YOU and a second, untitled book, sold to Alessandra Balzer of Balzer + Bray/HarperCollins, in a good deal, at auction.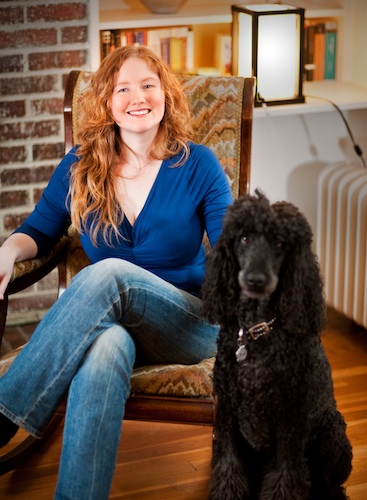 (Photo credit: Matthew Lowery Photography)
Emily and I first made contact last summer, when she queried me with a YA. I read it twice, really loved her voice, but it wasn't quite there yet. It had some issues and I didn't know if I wanted to take Emily on without seeing some revision skills first. So I told her to go back into her writerly hidey-hole and return with her next project. She did. It was THROUGH TO YOU. A brilliant, high-concept premise paired perfectly with her strong, literary writing voice. Dreamboat! I fell out of my chair, read it the same day (a busy November Saturday in Chicago when I kept sneaking away from an event to read my Kindle in a locked bathroom stall…true story!), offered representation, and won the opportunity to work on this awesome book.
I gave Emily revision notes, she worked on it for about a month, sent it back, and then we were ready to go out in January. I drummed up some excitement by pitching to editors in person at ALA, then sent it out on Friday, January 14th. Here's an excerpt from my pitch letter, where I positioned THROUGH TO YOU as a cross between BEFORE I FALL and THIRTEEN REASONS WHY:
The day grief-stricken high school senior Camden Pike sees a ghost is the day he assumes he's finally lost it. For the last two months, he's been torturing himself after walking away from the car accident that killed his girlfriend, Viv. She was the last good thing in his life: helping him rebuild his identity after an injury ended his football career, picking up the pieces when his home life shattered, healing his pain long after the drugs wore off. He'd give anything for one glimpse of her again. But now there's a ghost at the accident site…and it isn't Viv.
Cam quickly realizes the apparition, Nina, isn't a ghost at all. She's a girl from a parallel world, and in this world, Cam is the one who died, and Viv is alive and well. Cam's wildest prayers have been answered and now all he can focus on is getting his girlfriend back, no matter the cost. But the accident isn't the only new thing about this other world: Viv and Cam both made very different choices here that changed things between them. For all Cam's love and longing, Viv isn't exactly the same girl he remembers. Nina is keeping some dangerous secrets, too, and the window between the worlds is shrinking every day. As Cam comes to terms with who this Viv has become, and the part Nina played in his parallel story, he's forced to choose–stay with Viv, or let her go–before the window closes between them once and for all.
I still get chills reading this synopsis, because the story really is that good. Luckily, I'm not the only one who thought so. One week after submission, we had our first offer. The next week, we went to auction. The same day I sent out auction rules, my hard-working foreign rights co-agent Taryn Fagerness closed a huge pre-empt from German publisher Goldmann. She sold Italy later that week. The next week we closed the auction and THROUGH TO YOU officially went to its home at Balzer + Bray.
There have been even more top secret developments for this book since then, but I figure this is great news for now. Emily (website, Twitter) has her own write-up of the experience here. And here's what Alessandra Balzer, Emily's new editor, has to say about reading THROUGH TO YOU for the first time:
When I read Mary's description of THROUGH TO YOU, I thought — OK, this sounds very intriguing. A parallel reality is a hard thing to pull off in a convincing way, though, so I stayed a little wary. I started the manuscript and from the first page I immediately liked Cam's voice and felt drawn in. But still, I wondered — how will this play out? Then, when Cam sees the girl by the site of the accident — I expected it to be his dead girlfriend. When it wasn't — when it was actually a new character with secrets to reveal to Cam about his own life — that's when I knew I was hooked. Emily has created so many great and unexpected twists and turns in this plot — you really don't see what's coming next. I also love the idea of choices in this novel — and how one bad turn can lead you down a path that you were never meant to be on.
We're all thrilled with the success of THROUGH TO YOU so far, and hope you will pick it up and discover the twists, turns, thrills, and secrets for yourselves when the novel hits stores in Fall 2012!