We still have space available at the Andrea Brown Literary Agency's Big Sur workshop that's happening March 2nd to the 4th in beautiful Monterey, CA. Guest editors this time around include the fabulous Lisa Yoskowitz of Disney-Hyperion, Sharyn November of Viking/Penguin, and Julie Romeis from Chronicle Books. We've also got film agent Brandi Rivers from Magnet Management in Los Angeles if you're writing a screenplay or are otherwise interested in Hollywood. If you're writing anything from picture books to young adult, come on down and hone your craft with four intensive hands-on workshops throughout the weekend. Learn more about the weekend and register here.
As for me, I'm up to something hands-on and intensive before Big Sur weekend. I'm not quite ready to make the big announcement yet, but you should be able to guess my news from these pictures. Here's the first clue that I posted to my Twitter back in October. It's me mailing something very important: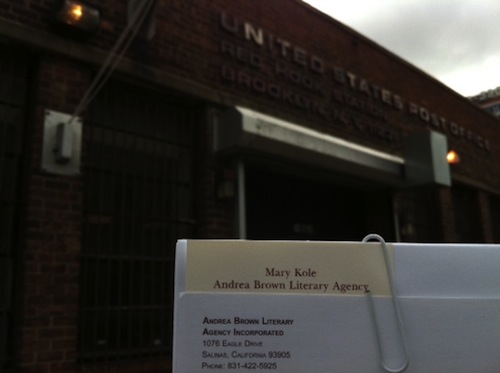 Hmm. What could it be? Here's a new clue. This is what's my desk looks like these days: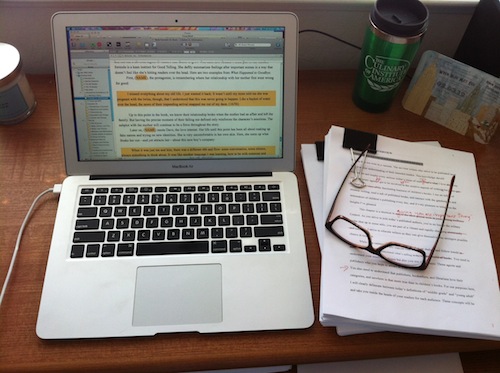 Actually, that's a lie. My desk is nowhere near this orderly. I cleaned it up a little for the photo. Either way, I'm getting away from the point. I'll do a proper reveal of my news in a few weeks, but I think you can figure out what I'm working on. Just for the hell of it, the first person to guess correctly in the comments will win…whatever this project might be…whenever it's available! 😉
Tags: Conferences, Etc.