Legendary children's editor Ursula Nordstrom (responsible for shepherding classics like Goodnight Moon and Where the Wild Things Are) once said:
If I can resist a book, I resist it.
This is the note on which I end almost all of my talks, and the challenge I issue to writers. Sure, the idea of someone resisting your book isn't a pleasant one, but the trick, especially in this market, is to make resistance impossible. You should never aim any lower than that with your creative work. Am I right? And you do that by learning the marketplace and honing your storytelling craft to razor-sharp edge. How? I'm glad you asked!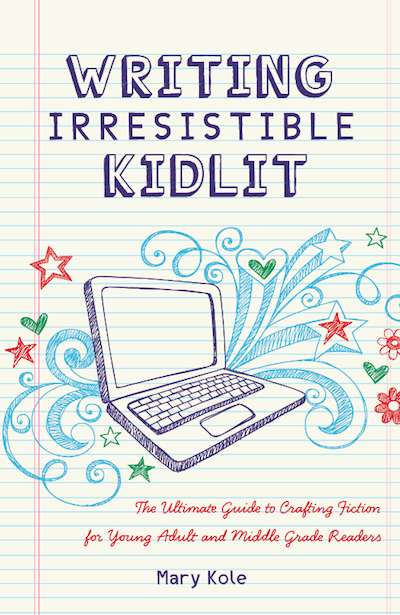 It's in this spirit that I bring you WRITING IRRESISTIBLE KIDLIT: The Ultimate Guide to Crafting Fiction for Young Adult and Middle Grade Readers. It's my writing book. It is inspired by this blog, by my readers, by my clients, by my colleagues at the Andrea Brown Literary Agency and Movable Type Management, by the agents, editors, designers, and publishers shaping the industry, by the amazing writers who are working in the children's book space today, by the SCBWI and the other conferences that have given me a platform, and by my own thinking about story over the years. It would not have been possible without the support of the fantastic team of people at F+W Media and Writer's Digest, who have been my partners in literary crime for a few years now. (Trust me, some of the jokes I get away with during the webinars could easily be considered literary crime…)
For the book, I culled excerpts from thirty-four of my favorite published middle grade and young adult titles, and analyzed them to give my readers the most relevant examples for craft topics like theme, character, plot, imagery, dialogue, and more. There are tons of my original thoughts on all of these issues, as well as input from published authors and fabulous children's editors. I also include insights into the children's publishing marketplace from an agent's point of view–where the market has come from and where it's going.
Writing this book has been the thrill of a lifetime. I can't wait for you all to read it and have a comprehensive picture of just what the heck I've been trying to say on the blog and at conferences these past few years. On a special note, I did not repeat any blog content for this book. Since I've written so much for this blog on the topics that I'm covering in WRITING IRRESISTIBLE KIDLIT, it could've been very easy to copy and paste some chapters entirely. But I wanted to challenge myself to create completely new content (and maybe I'm a bit of a masochist…probably a mix of both). Plus, I hate "blog books" that end up being repeats and disappointments, and wanted to absolutely avoid letting my faithful readers down. The only familiar sections you'll notice are from some talks and webinars that I typically give, but not everyone has heard me speak. To balance that out, I'll be phasing some of the old speeches out of my repertoire after this book is published.
Other than that, all you need to know is that it comes out in late October, 2012 from Writer's Digest Books! Don't worry, I'll be talking more about it as the pub date approaches and doing some giveaways. Thank you so much for your support and early excitement about this project. I can't wait to share it with all of you!