The query letter webinar is coming up! As I posted a few weeks ago, I'm going to be trying a new webinar platform and running some independent webinars. This first webinar is "Writing an Irresistible Query" and focuses on nailing that oh-so-elusive document, the query letter. Registration is now live!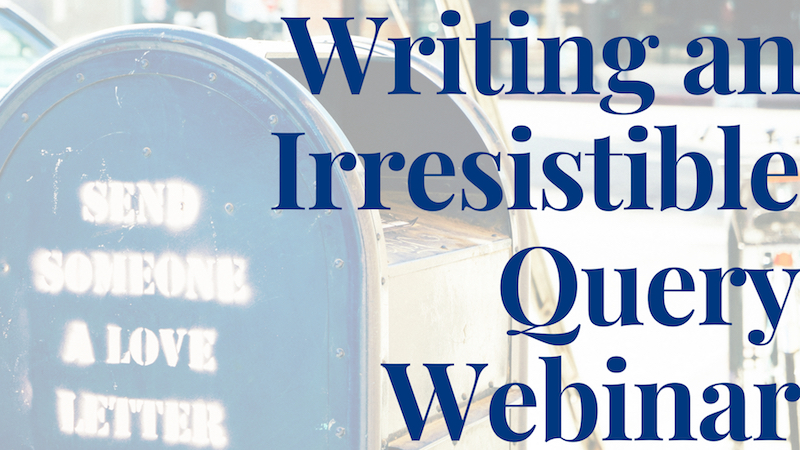 Join Me for a Query Letter Webinar
My first-ever query letter webinar is a test run of the class, as well as a webinar software that's new to me. If you join me for this first outing, I invite you to participate for FREE! All I ask is that you fill out a short feedback survey after the webinar to let me know how you enjoyed the experience.
The webinar will be held:
Saturday, September 29th, at 11 a.m. CDT
All you need is a computer with Internet access and the capability to play video and audio content. The webinar will feature me, speaking on camera, as well as a PowerPoint presentation.
Once you register, you will receive email instructions for joining the webinar live, or watching the recording after the event.
Please clink the link to register for my first-ever query letter webinar, or fill out the form embedded below:
If you can't make that date or time, please register anyway. As a registrant, you will receive a link where you can replay the recorded program. Please note: Only the first 100 registered attendees will get to view the webinar live, so show up a few minutes ahead of time. There are already more than 100 registered listeners, two days after the link went live. If you really want to hear it live, please plan to be early. If you aren't able to hear it live, you will still receive the recorded event via email later that afternoon.
Looking Forward
I love speaking and teaching, so I hope to bring you more webinars on topics like character, voice, interiority, queries, the agent submission process, etc. If I like this webinar platform (and this is where I'm especially looking for your feedback!), I hope to do one or two events per month.
In the future, different webinars will be free and paid. Paid webinars will always include critique of any relevant documents. For example, the query letter webinar will include critique of, of course, your query letter. To clarify, this September query letter webinar will not include query letter critique because my focus is on testing out the platform.
If you'd like personalized help with your query letter without the wait, consider hiring me as your query letter editor today!