Yesterday, I woke up at noon, having slept for 13 hours. That should tell you all you need to know: it was BEA the week before. And this was an easy one, compared to the last two years. I deliberately tried to go slow and skip all the meetings I could, and still, the expo crawled into my soul and took root.
This year's BEA was…strange. There weren't a lot of books on the floor, an odd sight compared to 2009, when I ran around like a kindergartener on a Pixy Stix high, grabbing ARCs and pressing them to my chest in a delirious rush of paper. I only filled up one bag this year, which was good for my shoulders but put me in a funky mood. (ALA was a much better haul, and I hope I'll be reporting the same about the expo in June in New Orleans.) Not that I want to rob booksellers and librarians of their ARCs but…I need to stay on top of new releases, too…or so I tell myself to sleep more soundly.
There was a lot of talk about digital…a lot. The day before the expo floor opened was all about digital publishing and social networking and all of that. My colleague Laura Rennert was on a panel about new publishing models. You can read more about that from my KidlitApps post, here.
I wanted to run around and post with pictures of upcoming book ARCs, but Random House, the publisher of BUGLETTE, A MESSY SLEEPER had a very small footprint on the floor (though I suppose it's better than when they had no presence at all), and S&S didn't have ARCs of WILDEFIRE available. I did manage to find an ARC of MERCY LILY by Lisa Albert at the Flux booth, and pose with it, so the tradition remained alive. Here's hoping to even more smiley shots at ALA.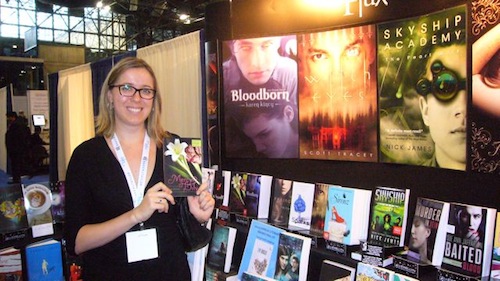 The Buzz Panels this year were great. Lots of exciting books. You can read a write-up of the YA panel here, and the MG panel here. I've already tucked into THE APOTHECARY by Maile Meloy, which I'd heard about originally from Jen Besser, the editor, at a meeting in the fall. It's really good so far, and I can't wait to see the whole package with all of the art. Also in my suitcase this weekend were DAUGHTER OF SMOKE AND BONE by Laini Taylor and AU REVOIR CRAZY EUROPEAN CHICK by Joe Schreiber from the YA buzz panel. I'm really happy we had a MG panel, and hope that tradition continues.
There were also some hotly buzzed ARCs at the expo. If it had been my first BEA, I would've gamely waited in line to get them. This year? Feh. But if someone wants to send me THE FUTURE OF US, the new Jay Asher/Carolyn Mackler juggernaut, I will happily provide my mailing address. Yes, it is an ABLA book. No, I did not get an ARC. No, I am not above begging. There's also an adult (gasp!) book that was getting all the buzz at the expo…THE NIGHT CIRCUS. Anybody got that lying around?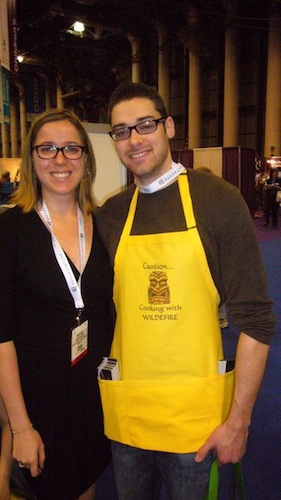 My favorite things about BEA weren't in the official BEA program. They were run-ins with agents, editors, authors, and other publishing friends on the floor, as always. They were late-night NYC adventures with out-of-towners who just neeeeed, in my opinion, to have an enthusiastic tour guide show them what the view from the Brooklyn Bridge is like in the middle of the night. They were afternoon drinks after the last expo day with people as exhausted as you are, who just want to stare at a wall, mouths slightly ajar. Oh, yes, and also going to the Teen Author Carnival to cheer on my client, Karsten Knight, whose WILDEFIRE is coming July 26th! You can see us here, debuting our ridiculously good-looking glasses (and Karsten in his apron that's stuffed full of bookmarks for the book).
On Friday night, I was out in the languid summer heat, BEA a fuzzy memory already, enjoying a beer or two at the Frying Pan, a barge/ship/dock/beer garden-type thing on 12th Avenue and 26th Street. I turned uptown to get out of the wind and my eyes fell immediately onto the shimmering black jewel that is the Javits Center. No joke, my blood pressure spiked and I whirled back around. It was good having you in town, BEA. It looks like it'll be a whole year before our paths cross again. Somehow, I'm okay with that.