There's a subtle error that I've been seeing a lot lately as I'm editing writing. It really is quite simple to notice, once you know what to look for. I don't know if it's something in the air, with this beautiful spring in full blossom outside, but I have noticed it in almost every MG and YA I've been working on so far in 2016.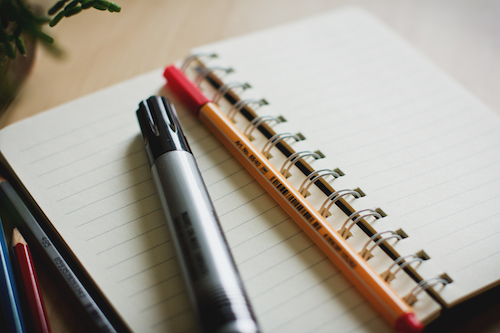 Editing Writing for a Subtle Grammatical Error
See if you can spot it:
He ran as quickly as he could, his lean body like a jaguar.
Want another one?
Her arms jerked like a robot as she scrambled to hide the candy into her backpack before the store owner saw her.
What's the common thread? Both sentences make comparisons. However, both compare a part of the protagonist to a whole, rather than the same part. The fix is very easy to implement when you're editing writing. Look:
He ran as quickly as he could, his lean body like a jaguar's.

Her arms jerked like a robot's as she scrambled to hide the candy.
So easy! So elegant! The more correct choice is to compare the protagonist's part to the corresponding part by making the subject possessive. This way, the girl's arms are like the robot's arms instead of the whole robot itself, which muddies the image. As you're learning to write, smoothing out these details will make your work stronger and easier to read.
Avoid Basic Errors When Writing to Get Published
As long as we're talking about editing writing, I would love for everyone to read up on what a dangling modifier is, and try to avoid them. These guys are tricky, and another good detail to nail down when you're learning to write. In my exuberance to get my point across, I still find myself using them all the time. I'm sure there are a few in this blog, or even in my book, and I'll be the first to admit that I have my own grammar and spelling blind spots, as everyone does. (Fun fact: The word "mustache" is misspelled in my book as "moustache" in one instance. It's nobody's fault but mine. What a terrible failed hipster I am!)
The Bigger Picture in Editing Writing
Now, to put your minds at ease, you are not going to get immediately disqualified if you don't catch every little mistake when you're editing writing. Everyone has their off days. If you keep doing it throughout a manuscript, then maybe. If you keep doing it and then some with other errors, then you're calling your credibility into question. The bottom line is, you are a writer and you're submitting a piece of writing to agents and editors who deal in the trade of writing. So, your writing needs to be of very high quality in order to compete with every other writer who is trying to break through. You need to work out all the bugs when you're learning to write, and then pour all of your knowledge and experience into crafting an agent-worthy manuscript (check out the difference between editing and revising).
Words and grammar are your stock in trade. If I was hiring a seamstress (because I suddenly live in the 19th century), I'd look at her stitching. And if it's shoddy, I wouldn't hire her. Because I'm not hiring her to trim a mustache, I'm hiring her to sew. Right? That's just how it works.
Increase Your Chances With Literary Agents
Sure, an agent will overlook some typos, but why submit a manuscript with typos, misspellings, incorrect formatting, and grammatical errors? I have actually heard some writers say, "Well, that's what an editor is for. It'll get fixed once someone buys it." Are you kidding? Why would a publishing house take a (potentially expensive) gamble on a writer who can't submit a manuscript that demonstrates a basic grasp of grammar and writing? If you're making sloppy errors or you just haven't managed to nail dialogue formatting (the capitalization and punctuation surrounding your dialogue), which is another problem that I've been seeing in almost every single manuscript, then what confidence is an agent or editor going to have in your skills?
If you're not editing writing, then you're probably leaving simple spelling, grammar, and formatting errors in your manuscript. The simple truth is that you're setting yourself up for a completely preventable tragedy. And what am I always talking about? Giving yourself a stronger shot at success. The two don't go hand-in-hand.
Though I am primarily a developmental book editor, I offer proofreading and line editing services with each manuscript critique.