I'm adding a thing to the already long list of stuff I do, and I'll tell you all about it on Wednesday, January 2nd. In the meantime, here's a sweet review of WRITING IRRESISTIBLE KIDLIT from superstar MG author Danette Haworth, whose book VIOLET RAINES ALMOST GOT STRUCK BY LIGHTNING is excerpted (though she swears her praise isn't biased!).
In other news, I don't know if you've unfriended me on Facebook yet, but you should. Why? Because my feed is about to turn into one big infomercial about Gertrude, our 10-week-old pug puppy. Loyal blog readers know of my love for animals, and probably remember my two furry loves Smokey and Sushi, who passed in 2009 and 2011. It is so wonderful to have a pet again. I've never had a dog before, either, so this pup is a dream come true. I feel so blessed and grateful. (And I should really buy stock in pet deodorizer spray…)
Now for the vital stats: She's a rare silver gray color and–maybe I'm biased but–I don't personally think that she could get any freaking cuter. Her favorite activity is chewing on everything. Her favorite food is treats. Her favorite way to sleep is upside down. Her favorite place to go to the bathroom is everywhere but her puppy pad. (Hence, her nickname is "Dirty Gertie.") Her murder weapon is lots and lots of kisses until her victims succumb. It's disgusting how smitten we are with her. Here's a glamor shot: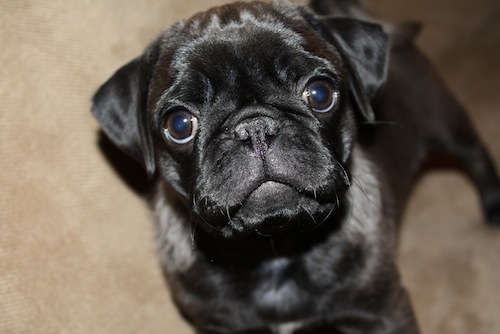 Happy Holidays to you and yours, and an energizing New Year that sees you many steps closer to your dreams!