Beth asked a literary agent request question that I'd love to address. Here's what she said:
My burning question: Is a week–or two too long to wait to get back to an agent requesting a partial? Based on a different agent's feedback, I'd decided to do a huge revision of the beginning of my manuscript. Recently another agent (queried *before* my decision to revise) asked to see the beginning. Obviously I want it to be perfect before sending it, but I don't want to lose the agent's interest or have them think I queried them prematurely (which is actually the case, but it was an honest mistake).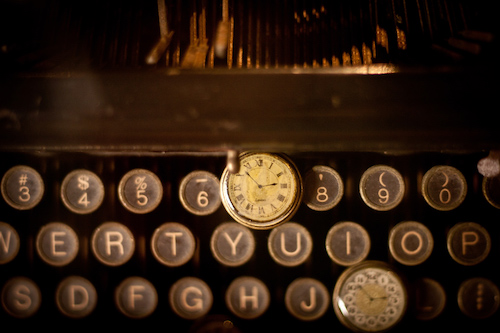 You've Received a Literary Agent Request… But You're Not Ready!
Honey, every writer I've ever known has made this honest mistake. OF COURSE you queried prematurely and now you have a literary agent request for your full. Why? Because, even though I've been saying not to f-o-r-e-v-e-r, you didn't believe me. That's fine. I don't take it personally. I know it's not fun advice, so I know most people ignore it (or think they're the exception).
The only way to really learn this is to be in the situation where you're sending a revision to a literary agent and to have that light bulb go off in your head. Even with things you've been told a million, billion times, it never resonates until you're staring at the manuscript submission you just queried around and seeing all the flaws and you have that sinking feeling in your gut.
I won't scold you any more about it, though. 🙂
Do Not Rush Through Revision
But now I will give you some advice that I really hope you (translation: everybody reading this who will be querying at any point in their future, and not just querying me) take to heart. If you've already made this mistake — to be clear, the mistake is rushing out a manuscript that wasn't as fully revised as it needs to be — once, don't make it twice.
DO NOT rush to complete this next revision just so you can rush it out to fulfill a literary agent request. How can you POSSIBLY do a "huge revision" in two weeks and have it fully percolate and marinate and settle?
This just happened to me, for example. I usually don't talk about things where the writer will most likely be able to identify him or herself on the blog, but this is harmless. I asked for a full manuscript submission in, oh, October. I never ended up getting it. And I'm selective about the fulls I request, so I did remember that I'd asked for it, and every few months, I'd randomly think, "Hey, I wonder what happened with that one."
Well, an email with a completely revised full showed up this week (April), with a note that the writer had done a serious revision and didn't want to bug me before it was ready. You know what? Not only did I not forget this manuscript (a), but I now respect that writer, because they got a full request and were about to press the "send" button in their excitement, but they pulled back and really took their time on a revision (b).
Submit to Literary Agents Only When Your Manuscript Is Ready
I tell people at conferences the same exact things (are y'all listening out there from Dallas?!). Most likely, if you have a literary agent request for your full, you will not lose their interest. Let those new ideas percolate and settle. Take your time and do your revisions. Agents would rather see something good than something unpolished that comes quickly.
Let's just say I prefer slow, gourmet food to fast food, because it takes a lot of time and care and craft to cook really delicious fare. (Edited in 2017 to add that I married a chef, so I take this metaphor super seriously!)
So, Beth, take your time with your revised manuscript submission. Don't rush AGAIN. I know I'll end up begging and pleading this particular point for the rest of my career, so here's yet another entry into the Don't Rush Out Your Submission Hall of Fame.
Let's jump into your revision together. Revision guidance is at the heart of every one of my book editing services.