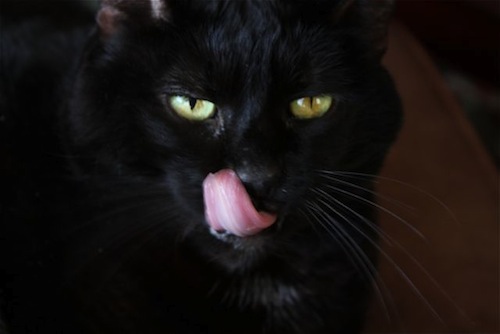 I first started writing this post on May 3rd, 2010 when my cat, Sushi, sixteen years old and in kidney failure, was really, really sick and I feared the worst. With all of your lovely hopes and prayers and support, I felt so blessed and grateful when she pulled through. After that, she would get sick every few months, but would always buck up after a course of antibiotics and a week of subcutaneous fluids.
Still, nothing lasts forever, and this recent bout was different. Sushi had been losing weight pretty steadily by the time she fell ill last weekend. This wasn't the usual infection and she wasn't her usual, cheerful, goofy Sushi self. She stopped eating, couldn't really get on the bed, and gave up on her litter box.
When I took her to the vet last Monday, I walked away with pain medicine instead of antibiotics, and the heartbreaking instructions to take her home, spoil the hell out of her with cuddles and delicious food, but to bring her back, and soon, so she wouldn't have to be in pain for too much longer. In the Death Cab for Cutie song "What Sarah Said" from their album Plans (most depressing album ever, seriously), Ben Gibbard sings, "Love is watching someone die." As much as I wanted to protect myself, drag it out, keep her alive with drugs and fluids, I knew I had to do the loving, merciful thing.
Long story short, the vet just left after a very caring home visit, and my little cuddlebug is finally at peace. My eternal gratitude to Dr. Mollica at the Carroll Gardens Vet Group. I put together the most wonderful — if I say so myself! — play list as she fell asleep. "I Will Follow You Into the Dark" (Death Cab), "Magic" (Ben Folds Five), "Levon" (Elton John), "When I Fall" (Barenaked Ladies), and, finally, "Lullaby" (Ben Folds Five). Right now, as the music ebbs, I'm imagining her in one of those afternoon sunbeams she loved so much.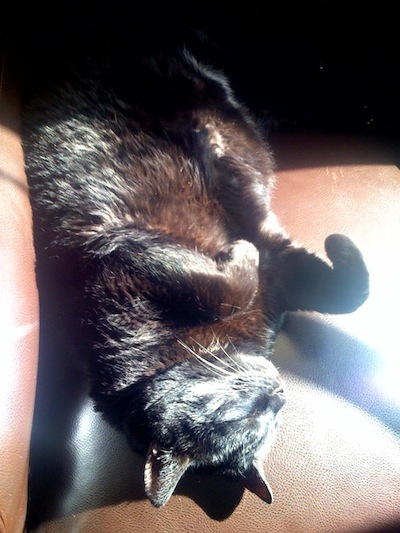 For almost exactly five years, I've been so incredibly lucky to share my life with two amazing cats. I lost Smokey to old age in July 2009, and it tore me apart to see Sushi fade from the same so soon after. A heart without a pet to love is truly a lonely thing, and I miss both of them so much. I always will. If this strikes a chord, please donate to the Humane Society of the Silicon Valley, the non-profit shelter that gave me both of my wonderful girls. I love them and every moment they've given me has been a joy and a gift. Even on this very sad day, I swear, I live an incredibly charmed life, in no small part because I got to be Sushi and Smokey's "forever home," as they say when you adopt.
I'll let Ben Folds take it away perfectly because, well, he always does:
Goodnight, goodnight, sweet baby
The world has more for you
Than it seems
Goodnight, goodnight
Let the moonlight take the lid off your dreams.