Many writers get stuck on plotting a novel. How do I know? I've seen thousands of plots, and very few that worked well enough to sell. Plot is one of the most important elements of any story, from picture book to chapter book to a middle grade novel outline to young adult.
Novels are quite the tricky kettle of fish. We've already talked about character, but characters mostly add internal conflict to a story when left to their own devices. They sit and contemplate how lonely they are, or how unpopular, or how much they want something exciting to happen. So what do we do? We give them external conflict: plot.
Plotting a Novel in Four Key Points
I've had the tremendous luck to study with middle grade author Lewis Buzbee in my MFA program. Not only is he a very talented writer but he's an excellent teacher. This way of looking at plot is cribbed almost entirely from him, because I think it's just that good. (But he often gives this workshop in person and, if you ever get the chance, do listen to him talk about it… my version will be a pale imitation.)
So, basically, what Lewis teaches and what I believe is that there are only four key points to a plot. This is that "dramatic arc" that you hear so much about. Some writing teachers subscribe to a "three act" structure, some like five acts, some like to choreograph your plot right down to what should happen in a story when. I think these micromanaging techniques miss the point.
Middle Grade Novel Outline: All Structure, None of the Gimmicks
Put whatever you want in your plot, run your characters through the story that's in your imagination, but when you're reading your manuscript over again or making a middle grade novel outline, make sure it adheres to this very simple arc: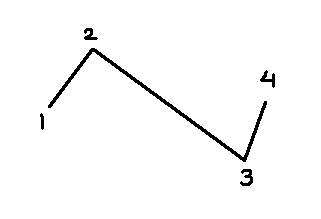 Do you like my lovely drawing? I never said I was visually gifted, mind you. Let me explain what's going on here, point by point:
Normal: This is your character's baseline. At the beginning of a story, your character is usually their normal self in their normal circumstances (as much as possible). Something has probably happened to knock them off balance but they are making do. They might even be doing well. Even if they're starting on their first day at a new school, they're making a friend or two, they're not completely failing their classes, they discover a magic shop where the owner seems very interested in them, etc. This leads us to…
The Rise: This, for the near future, is as good as your character is going to get. You want to spend some time, maybe the first quarter of your story, building relationships, exposing your character and their goals and motivations, creating a world and planting all the seeds of plot, story, theme and character that will be important later. If your story is longer, maybe spend only the first 1/5th or 1/6th here. Then get ready for…
The Fall: But things were just moving along so nicely! Oh well. We don't pick up books to read about nice people in calm, tranquil situations. All that stuff that you've established in the first quarter, fifth or sixth of your story… screw it up. Things go from okay to bad, from bad to worse, and from worse to impossible. The character's relationships get troubled, their goals and aspirations are thwarted at every turn, they make dumb decisions and have to deal with the consequences, etc. The very bottom of this point on the graph is usually the climax of the story, aka. when things seem hopeless or so bad that they can't get any worse. Then, the character triumphs, and…
The Evening Out: No, not a nice night out on the town with a date. This is the getting back to some kind of equilibrium again. It shouldn't be the same equilibrium because, hopefully, your character has changed over the course of their journey. It is a new normal, a new way of living and thinking and existing in the world of the story.
There you go. Now, you'll notice that the graph outlines more of an emotional journey than specific plot points.
Focus on Character Emotions to Get the Most Out of Your Plot
Unfortunately, I can't sit here and tell you all the things that must happen in your story. I don't know. They have to be born from the character who's starring in your book and the story that you want to tell. But take this four-point structure to heart and make sure that the plot you're creating puts your character in roughly this emotional state over the duration of your story.
How you get them to these emotional highs and lows, to these particular experiences, is up to you, but make sure you're massaging and revising your story into the above shape. It is the most effective and a great starting place, even if you do want to experiment later. (Here's an idea about making your plot points irreversible and very important.)
In order to do this more effectively, you might want to outline. That's right, everyone hates writing a middle grade novel outline or a young adult chapter by chapter breakdown. I know pantsers are going to hate this advice. But it's worth at least trying, so you can see how you're plotting a novel in front of your very eyes.
How to Write a Novel Subplot
Subplots don't need to be quite as dramatic — the highs shouldn't be so high, the lows shouldn't be so low — and they don't have to span the whole length of the book, but do make sure that they follow some semblance of this graph, too. Subplots are usually generated by secondary characters. Let's say the plot of your book is American Pie-esque… a guy, Joe, trying to get laid before the end of his senior year in high school.
That quest will form the main plot. Let's say, though, that he's got a best friend, Sam, who can't seem to stop getting laid, and he's been hiding all his various girlfriends from each other.
Sam's subplot is that he wants to simplify his life and get rid of some of his attachments. This subplot could interact with the main plot because Sam might try to pawn off girls on our hero Joe, for example, or one of the girls pretends to like Joe just so she can get back at Sam. So subplots usually belong to other featured characters in your story and have this same trajectory. The moments when they interact with the main plot should serve to move the main plot along.
Leave Room for Tension, Mystery, and Surprise
This brings me to my last consideration about plotting a novel. Readers like to be surprised, they like suspense, they like the unexpected. Your plot shouldn't be so linear. That's why I like using the emotional highs and lows of your story for guidance. For me, as long as you hit these emotional points, there's a lot more room and flexibility for an interesting plot. Ally Carter, in a workshop I went to, talked about surprises. They're characters and plot points that dig into the story you're telling and spin it around, shooting it off in a completely different direction.
Make sure you've got key places in your story where a character or event acts like a bumper car and sends the story in a new or unexpected place. Let's say Joe, our high school virgin, is about to ask his dream girl to the prom — where he'll try to seal the deal — but she asks Sam, blissfully unaware of his Hugh Hefner tendencies. Now Joe is caught between his loyalty to Sam and wanting to save Dream Girl from Sam's clutches. This creates a whole new wrinkle in the story.
Complications! Surprise! You don't have to be zany for the sake of zaniness here, like I have been, but do try to keep the tension and suspense of surprise alive and well in your story.
Wondering what to do with your specific novel plot? Get one-on-one,  in-depth feedback on your manuscript when you hire me as a fiction editor. I can look at your synopsis, a partial, or your whole novel to really drill into how you're using plot.