Picture book illustrators need an illustration query letter to break into the field. You have several extra considerations when crafting an illustrator query letter and starting to pitch your illustration services, so here's how you will want to approach the topic of pitching yourself and your art.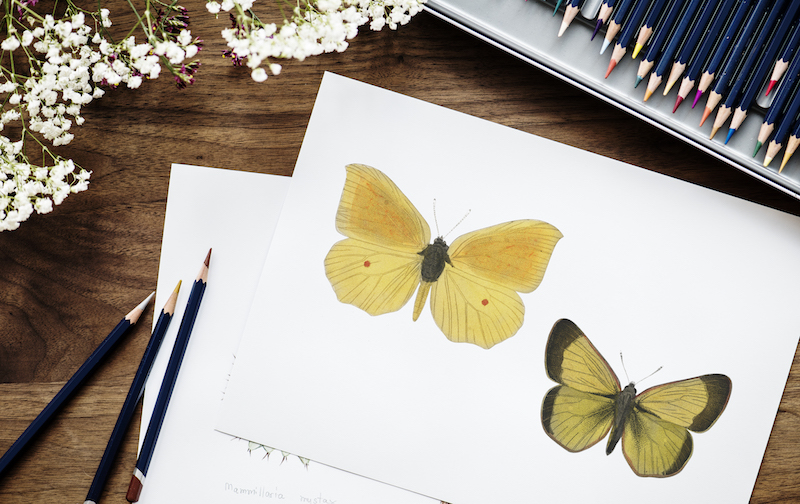 Getting Work as An Illustrator
There are several ways to break into picture book illustration. The first (and best) is creating a picture book project from scratch. A lot of picture books these days are sold as author-illustrator projects. Why? This makes things easy for a publisher. They deal with one creator, the art and text tend to have more complex interplay, and they don't have to go through the arduous process of matching a text to an artist.
But you can also try your hand at an illustration query letter if you want to enter a publisher's stable of potential illustrators (they all have one). This is the more circuitous route, with (often) less pay-off. If you don't have a picture book project ready to go, though, this is what you'll have to do. The bare minimum you need is a portfolio.
Picture Book Illustration Portfolio
Before you think about writing an illustrator query letter, you will need to assemble some materials. A strong illustrator portfolio needs to be available and viewable online (more on this later). As a bare minimum, it should contain:
6 to 8 fully finished illustrations
Different styles, if you have them
Different compositions, if you can, with some close-ups, and some wide angle scenes
Different subjects, from settings to characters
A special focus on characters and faces–portraying emotions is key for picture book illustrations
If you don't have this kind of work available yet, you aren't ready to pitch your portfolio around. Concentrate there, first.
Making Your Illustration Portfolio Available
There are two main ways to showcase your illustration work. The bare minimum is an illustration portfolio that's viewable online. Many websites, like Wix and Squarespace, can help you put together a visually appealing, easy-to-navigate website for cheap. (I personally use Squarespace for my editorial website and a WordPress blog hosted independently for this website. I highly recommend Squarespace for ease of use. I've been using WordPress for over a decade and am comfortable with it, but it tends to have more moving parts.)
Since most literary agents and publishers don't accept unsolicited email attachments, having your work hosted online so you can direct them to a website is key.
Mailings and Other Opportunities for Illustrators
The other approach is to target literary agents, artist reps, and publishers with postcards. (Artist reps are specialized literary agents who work with illustrators. Some illustrators opt to get a literary agent, and those are usually illustrators who are also interested in writing their own books. Some, who are interested primarily in illustration work, target art reps instead.) Use a website like Vistaprint (though do spring for better quality paper so that your art is reproduced faithfully and in more vivid color) to print postcard mailings. (I recommend Vistaprint for the first few mailings because they're cheap and run promotions, but for quality reasons, you'll want to move on from them eventually.)
Use books like Children's Writer's and Illustrator's Market to find and target literary agencies, artist representatives, and publishers (aim for the art director role at houses) with your postcard mailings. Showcase one to three of your top pieces and include a way to contact you on the back of the postcard.
A third way to showcase your art is to go to conferences that feature portfolio showcases or join the SCBWI, which has an area for illustrators to create galleries. There are a lot of other places to showcase art online, like creating a portfolio with Deviant Art, for example, but the SCBWI and conferences with illustrator opportunities are very targeted to the publishing business.
(For every activity you do, consider what you want to get out of it. Are you looking for representation for your art? Are you looking to connect directly with people who might be looking for illustrators to hire, like self-published authors? (Check out more tips on self-publishing.) Are you looking to do all kinds of illustration, from editorial to picture book, or to target picture books exclusively? Some of these questions and answers are beyond the scope of this blog post, but food for thought. More thoughts on illustrating your own children's book here.
The Illustrator Query Letter Made Simple
If you are pitching a picture book project along with your illustration talents in the query letter, you will want to follow my advice for the picture book query, but also add a paragraph that contains any illustration credits you have (magazines, blogs, etc. count!) and links the recipient to your online portfolio.
If you have a dummy of your picture book, you will need to transmit it somehow since, again, most agents and publishers don't accept unsolicited attachments. Have a PDF available and upload it to your website, but don't make it widely available. Instead, put a direct download link in your illustration query (or make the file password protected and send credentials). You can also use tools like Google Docs and Dropbox to generate a link to a file, but make sure the links don't expire.
If you are just sending an illustrator query letter to literary agents, art reps, and publishers that pitches your general talents, you will want to keep it very simple. You don't have a story to pitch, so instead give an abridged resume of your experience and a link to your online portfolio. Easy peasy! What will really set you apart here is a strong sense of your publishing history (so work on getting illustration jobs) and your online portfolio (so spend valuable time developing it).
I work with illustrators, too, as a picture book editor, so don't hesitate to reach out for feedback on your art!