Now, I don't write a super lot about my personal life on this blog, but sometimes I gotta. The reason this time? I have a cool and unusual fact in my history: I wrote my college thesis on Stephen Sondheim. Not a lot of kids can say that. I wrote my thesis on human relationships in two of Sondheim's musicals: Company and Follies. In the former, Bobby is the eternal third wheel. He goes back and forth on the idea of marriage and companionship, love and what it means to be attached to another person. His foils are all of his "crazy married people" friends, some in the midst of a happy divorce, others happily hitched and unable to admit it, still others terrified on their wedding day.
Bobby is a flake, seemingly content to be alone, always taking the easy path. He's a bit of a cipher character, actually. Until the last few minutes of the show. He goes from asking that someone "Marry Me A Little" at the end of Act 1 and singing "I'm ready now" when he doesn't really mean it…to realizing that he must surrender himself to the possibilities of love, life, and other people, both good and bad, when he sings "Being Alive," the penultimate song of the show. That's when he's really ready. Here are the lyrics:
"Being Alive"
ROBERT:
What do you get?
Someone to hold you too close,
Someone to hurt you too deep,
Someone to sit in your chair,
To ruin your sleep.
PAUL:
That's true, but there's more to it than that.
SARAH:
Is that all you think there is to it?
HARRY:
You've got so many reasons for not being with someone, but
Robert, you haven't got one good reason for being alone.
LARRY:
Come on, you're on to something, Bobby.
You're on to something.
ROBERT:
Someone to need you too much,
Someone to know you too well,
Someone to pull you up short
And put you through hell.
DAVID:
You see what you look for, you know.
JOANNE:
You're not a kid anymore, Robby. I don't think you'll ever
be a kid again, kiddo.
PETER:
Hey, buddy, don't be afraid it won't be perfect. The only thing
to be afraid of really is that it won't be.
JENNY:
Don't stop now. Keep going.
ROBERT:
Someone you have to let in,
Someone whose feelings you spare,
Someone who, like it or not,
Will want you to share
A little, a lot.
SUSAN:
And what does all that mean?
LARRY:
Robert, how do you know so much about it when you've never
been there?
HARRY:
It's much better living it than looking at it, Robert.
PETER:
Add 'em up, Bobby. Add 'em up.
ROBERT:
Someone to crowd you with love,
Someone to force you to care,
Someone to make you come through,
Who'll always be there,
As frightened as you
Of being alive,
Being alive,
Being alive,
Being alive.
AMY:
Blow out the candles, Robert, and make a wish.
Want something! Want something!
ROBERT:
Somebody, hold me too close,
Somebody, hurt me too deep,
Somebody, sit in my chair
And ruin my sleep
And make me aware
Of being alive,
Being alive.
Somebody, need me too much,
Somebody, know me too well,
Somebody, pull me up short
And put me through hell
And give me support
For being alive,
Make me alive.
Make me confused,
Mock me with praise,
Let me be used,
Vary my days.
But alone is alone, not alive.
Somebody, crowd me with love,
Somebody, force me to care,
Somebody, make me come through,
I'll always be there,
As frightened as you,
To help us survive
Being alive,
Being alive,
Being alive!
This wasn't the original ending for Company; it was added in previews. And it's brilliant. I love the turning point of the song, after Amy begs him to "want something," when Bobby realizes that he's not rejecting "someone to hold you too close," he actually wants that yet-unknown Somebody. He craves someone he can take care of (per the scene after "The Ladies Who Lunch"). For the first time, there's a sense of ownership: he wants to be an "us" (that word is used very pointedly in the lyrics above) and swears "I'll always be there." Those are heavy words for a third wheel! Creativity, humanity, and a life lived well are all immense responsibilities. They take courage, and he's finally found it.
In the 2006 John Doyle-directed Broadway revival of Company, all of the actors played their own instruments. There was no orchestra. In a very symbolic touch, Bobby (played by Raúl Esparza, who is the ultimate Bobby, in my opinion) was the only one in the cast to refrain from playing an instrument until he sat down at the piano for "Being Alive." It is the turning point in his life, the moment he decides to participate, the second everything changes.
This song doesn't just speak about this one character's experience, it speaks to the nature of life and human relationships, to love and fear, to vulnerability and authenticity. Those are all things I have been thinking intensely about in 2011. This year so far has seen the end of a relationship and the death of my beloved Sushi cat, a deeper bond with my colleagues and family, new culinary inspirations, a new group of friends in New York and across the country and truly fulfilling career successes. I'm also happier, personally and professionally, than I have ever been in my life.
There is a lot of fear in "Being Alive," but a lot of strength, too. And, finally, love. Life takes all of the above. So this song, for me, focuses on the intense, the vibrant, the close, the passionate, the terrifying, the inspiring…all the things life is if you just open yourself to it and make yourself vulnerable to truly being alive. That means love, and other people, and being yourself, and admitting when you're afraid, and knowing that sometimes it feels like you're just barely surviving, but survive you do because without feeling acutely all of the parts of life, you aren't truly human. You're not experiencing the immense power of your time here. (This intensity and immediacy of feeling is also, by the way, why I love great YA fiction.)
When Bobby finally decides to throw himself headfirst into life and love, which is my impression of this song, he's deciding to open himself up. It may not work out, but, as Peter says, "don't be afraid it won't be perfect. The only thing to be afraid of really is that it won't be." So when I went to magical Austin, I decided to give myself a permanent reminder to be open, be creative, be positive, be vulnerable, be aware, be disciplined, be principled, be true, be inspired, be full of life, be a part of a community, be held too close, hurt too deep, crowded with love. In short, to simply be. Be alive.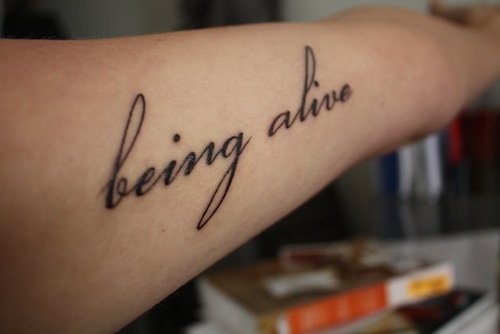 It's on the inside of my upper arm, a little bit private, mostly for me to read and remember. (Sorry, Mom!) Plus, it says a pretty universal thing that even the Sondheim uninitiated can understand, just in case I don't feel like explaining the reference. My smartass response will be: "Well, it's literally what I'm up to right now." You can see Raúl Esparza's performance of "Being Alive" here. I was definitely watching it a lot last weekend. 🙂 This moment in my life is one I'd like to remember. It's me saying, like Bobby, that "I'm ready now" for the next step, the next love, the next move, whatever that might be.
My deepest gratitude to Austin at Black Cat Tattoo in Austin, TX for the excellent bedside manner and the great take on the font I chose (an adapted Steelplate Script), to Jeremy Howell at Francisco's Salon, also in Austin for the recommendation (and the sizzlin' hot haircut), to John Cusick for going with me, providing moral support, and for buying me whiskey afterward, to Barbara Fraser at Santa Clara University for igniting my Sondheim passion with her senior seminar, and, finally, to Stephen Sondheim himself for crafting the story and the music that has resonated with the world so deeply.