There are a lot of "how to write a query letter" articles out there about what not to do. A lot. And I'm going to write some here in short order. But this is a different article. An article on how to approach a literary agent query letter, just so you can see my philosophy on queries.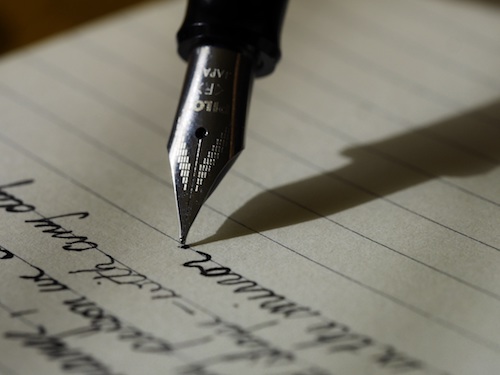 How to Write a Query Letter: The Beginning
Want to know how to write a literary agent query letter? It's simple, really:
Make me care.
Cut out the cutesy jokes, the rhetorical questions, the extraneous subplots, the superfluous biographical details and get to the heart of your story.
Start simply, without a lot of throat-clearing, and get to the point:
Dear Name,

I'm writing to you because you represented BOOK/because I saw you at CONFERENCE/because I like your philosophy of WHATEVER. I've got a complete manuscript I want to tell you about: MY BOOK, a WORD COUNT – length novel for AGE GROUP.
So far, so good. Personalize the literary agent query letter and then give them the bare bones details of what your project is.
The Key to Writing a Fiction Query Letter
Now we get the meat (read more about the elements of a query letter). The meat is a longer paragraph (or two shorter paragraphs) that creatively presents the answers to the following questions:
WHO is your character?
WHAT is the strange thing going on in their life that throws them off their equilibrium and launches the story?
WHAT (or who) do they want most in the world?
WHO (or what) is the main character's ally?
WHO (or what) is in the way of them getting what they want most in the world (their obstacle)?
WHAT is at stake if they don't get what they want?
The above questions are essential to a complete story. They are, in effect, designed to get you thinking about the most important elements of your book.  They're also the key in terms of how to write a query letter that'll grab an agent's attention. The funny thing is, when I read the answers to these questions, I start to care about the character! I start wishing I could read the whole story! (For more on this topic, check out my post on writing fiction that makes readers care.)
Unfortunately, you can't just present the above information in Q&A format. These are the questions you'll have to answer in prose, in a maximum of two paragraphs, in a style that tells the agent something about you, your book and your voice. Yes. It is moderately difficult to do. But now you've got tons of ideas for how to pull it off and what the meat of your query should include.
How to Write a Query Letter: The Closing
Then, you'll finish your literary agent query letter with:
Some brief biographical information. Things that are relevant: if your life has somehow inspired something in your novel, like you're writing about a kid who's obsessed with physics and you happen to be a physicist, also mention previous publication credits, advanced degrees like an MFA or anything else that is applicable to writing, etc. Things that are not relevant: how many cats you have, that your kids loved this book when they read it, how great the weather/food/backpacking is in your neck of the woods.
A cordial invitation to request the full manuscript.
Your signature and contact information.
Voila! Now you have a query letter format that hits the very heart of your story, doesn't waste any space and makes the agent or editor reading it care about the character and the character's journey.
This is by no means the only answer to questions about how to write a query letter, but it does cut to the chase rather simply and brilliantly, doesn't it?
Need a query letter editor? I've seen tens of thousands of queries, and I can help yours stand out in the slush pile.