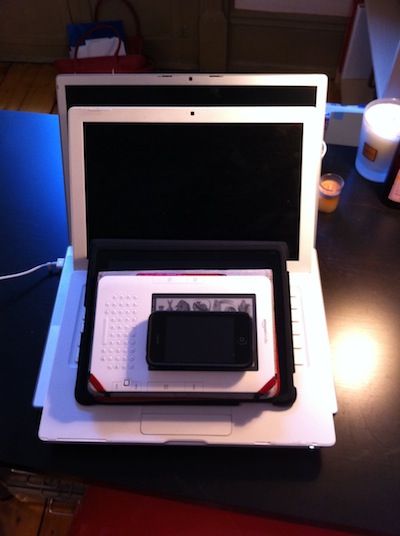 Here's a list of the computer stuff I had last week: MacBook Pro, MacBook, iPad, and iPhone. Plus, the black sheep of the Mac family: Kindle. The MacBook Pro is my "desktop" computer; it sits on my desk in my home office. The MacBook is my travel laptop. The Kindle is my submissions reader. I love flicking through requested fulls on it, as I tend to skim more when I read on the computer, and the ereader focuses my attention.
In April of this year, I let myself get swept up in the iPad tsunami that rushed through the media. It didn't help that my boyfriend is a Mac fanatic and wanted to get one first thing. So we went and stood in line on the first day, having reserved our iPads online the previous week, and participated in what can only be described as a circus of consumerism.
When we walked into the echo-filled glass lobby of the Apple store in the Meatpacking district in Manhattan, all of the dozens of gathered Apple employees cheered. I felt like a rock star. The only thing missing was paparazzi as I made my way to the third floor. About $700 later, I had my iPad, my case, and a sincere "Congratulations!" from an Apple employee. They wouldn't let us leave until they'd shown us exactly how excited they were to have our money. Some were giving out handshakes, others high-fives. It was a rush!
But it didn't last. The only thing I wanted from my iPad was a MacBook replacement. The iPad weighs 1.5 pounds, about two pounds less than the laptop, and slips easily into a purse. More battery life means I don't always have to lug around the charger.
While iPad fit the bill in terms of its portability, it let me down in all other areas. I edit manuscripts using Word and its Track Changes function. A lot of other agents and most editors do this. Pages, the word processor on the iPad, doesn't have Track Changes or a similar function (yet…Pages for other Mac platforms has Track Changes, but I haven't heard wind of an update like this for iPad). So I can't bring manuscripts to edit when I travel with iPad. And the backlit display, even though I turned the brightness down, hurt my eyes after long periods, so I couldn't use my iPad for submissions, either.
The other issue was the keyboard. When I took the iPad with me to editor meetings, I would then have to spend hours, in some cases, correcting typos and getting the notes in order afterward. Every third word or so would be illegible, and sometimes I lost whole swaths of my notes just because I was trying to type quickly…and looking at my hands the entire time!
The iPad was good for presentations. I'd have my talks loaded on it and would scan through them at the flick of a finger as I spoke. It was light enough to hold in one hand or prop up on a podium. I also loaded my clients' artwork on it and showed art to editors that way during meetings.
But, even though it was useful in two small areas, it still wasn't doing everything I wanted. So what did I do? For most trips, I brought my iPad (for presentations and art demos), my Kindle (to read submissions on the matte e-ink screen), and my MacBook (to edit client manuscripts with Track Changes).
Instead of getting a gadget that replaced two others (ereader and laptop), I wound up using three gadgets. In wanting to take a step forward and be more efficient, I'd ended up taking a step back. And it's not like travel is a small part of my life — I'm flying every single weekend from October to December. The same with meetings — it's a rare week if I don't have anything scheduled with an editor.
So last week, when the new MacBook Air debuted (less than an inch thick, a full keyboard, long battery life!), I finally did what I should've done a lot earlier. I sold my iPad and my MacBook, and defrayed over half of the Air's cost. So after an interesting six month experiment, I'm back to two: my Air for traveling and meetings, and my Kindle for reading requested material. I figure that I can put my talks on my Kindle and scroll through them that way, and that I can give editors an art show on my Air.
I can't say I'm pleased with the iPad, overall. And I really dislike apps. I think most apps, unless you need them for a specific work function, embody exactly what I experienced by adding the iPad to my life: they make things more complicated instead of more simple. I like to make grocery lists on the backs of index cards. Sure, there's an app for that, but do I really need to take every single aspect of my life to the digital realm?
I don't mean to sound hopelessly old-fashioned. I grew up in the Silicon Valley and, in fact, a lot of the people telling me that I need these apps and widgets in my life are friends and former colleagues. But I don't care. Nor do I need a gadget that's, basically, one giant store made to sell me things I don't need. Let the app developers make their millions (I hope, by licensing my clients' books!), but leave me my analog grocery list.
I could've probably held on to the iPad in order to track how ebooks, book-related apps, and book-related games are developing, but it'd be collecting dust for a while that way. In my opinion, the iPad is ahead of its time and trying to usher in a technological revolution that most people (publishers) aren't ready for, and some people (me) just don't want. The revolution is coming, of course, and I'm staying on top of it because agents in this new digital world have to and their clients need them to, but I've decided that the iPad and all of its bells and whistles really doesn't belong in my life.