This comment about how to become a picture book author illustrator came in from Priscilla via the blog:
I have heard that an author/illustrator needs to first "prove herself" as an author or an illustrator before being published as an author/illustrator. Is this the case? What is your advice for an author/illustrator on submitting a picture book when the text and images are dependent upon one another for meaning? As the Andrea Brown Literary Agency does not accept attachments with queries, a mock-up or dummy would be out of the question. But would an agent be interested in receiving written illustration ideas alongside a text query, or should the illustrations come later, only after an agent expresses interest in the project?
This is a great question, and one that might have a controversial answer. I am in the school of thought that picture books sell a bit more successfully these days, at least in my experience, if they come from an author/illustrator: one person trained to do both text and illustration.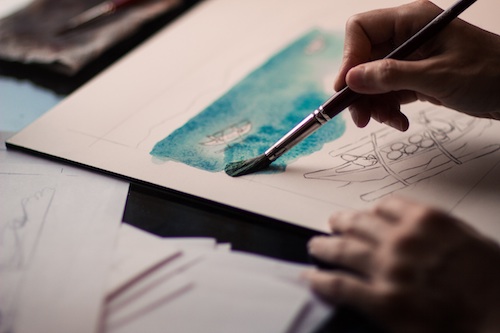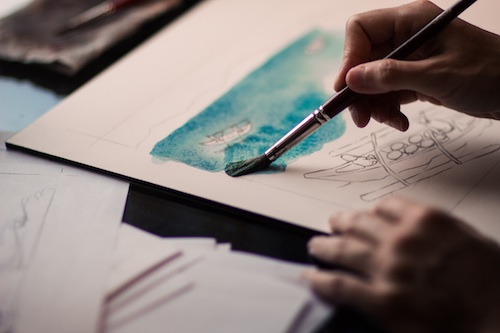 A Picture Book Author Illustrator Is an Illustrator First
Furthermore, most of my author/illustrator clients are trained illustrators first, then writers. I've done a lot more work with them on improving storytelling, structure, and writing. Because if the illustration quality isn't there to begin with, there's not a lot that I'll be able to do, since my expertise is primarily in text.
A lot of the editors I talk to express interest in author/illustrators simply because the whole package is there: the text, the art, the interplay of word and image, the design of it. Some agents and editors are more talented than others at imagining what kind of illustrations to marry to text and vice versa. Picture book texts that sell (and many text-only sales are still made, every day) and illustration portfolios that land on an editor's desk are incomplete. They need their mate in order to become a book.
It's up to the right editor and to chance to make the match between an author and an illustrator. Sometimes this alchemy doesn't work. Sometimes texts or art bought separately take longer to get into production. It can get complicated. So if an editor buys a project from an author/illustrator, they have a tantalizing snapshot of what the finished book will be — right there in the dummy — and they know they'll only have to work with and juggle one creator for the project instead of two.
How to Combine Illustration and Text in a Picture Book
This simplicity is, frankly, why I love working with a talented author/illustrator. They also tend to have the best understanding of how text and image can combine to become greater than the sum of their parts, how word and illustration enhance each other.
For me, opening a dummy from a fantastic author/illustrator is like diving into a miraculous treasure trove. And that's how it should feel. I'm extremely picky about author/illustrators, and do prefer to work with them over just illustrators or just authors, though I have those clients on my roster as well. This, of course, is just my personal preference.
Does, however, an author/illustrator need to get their start as an author illustrator? That depends. If they have a fantastic author/illustrator project that is very commercial, it will probably sell, even though they are a debut talent. If they extend themselves to land a text or an illustration deal (the latter being more common) first, then they can enter the marketplace with some illustration credits, then move on to an author/illustration combo. But I don't think prior illustration credits are necessary to land an author/illustrator book.
Client Case Studies
One of my clients, Bethanie Murguia, was an experienced illustrator but had no book credits to her name until she landed BUGLETTE, THE MESSY SLEEPER (out from Tricycle Press in May, 2011). That was her first book deal and her author/illustrator debut. As it happens, I have sold two more books for Bethanie, and both of them will be author/illustrator projects. One other client of mine is on the cusp of becoming an author/illustrator debut with a medium-sized publisher (more details after we finalize the deal!). He is an experienced illustrator, and we finessed the text and story.
Another client, Lindsay Ward, was a trained illustrator who got her start on her own by sending out postcards to editors and art directors. From there, she landed a cover and interior spot illustration project for Doubleday Canada, and two illustration projects: THE YELLOW BUTTERFLY from Bright Sky Press (2010) and A GARDEN FOR PIG from Kane/Miller (2010). I was on board at this point and we were able to work up to an author/illustrator project with a smaller house (PELLY AND MR. HARRISON VISIT THE MOON, out Spring 2011 from Kane/Miller), and then land her an author/illustrator deal with a larger house, the newly retitled WHEN BLUE MET EGG, out from Dutton/Penguin in Spring 2012.
So, you can break in to author/illustrator-hood either way. And I don't think it's out of the question to land an author/illustrator debut deal…at all.
How Do You Submit a Book Dummy to a Literary Agent?
Now, a lot of folks do have questions about our submission guidelines. We don't accept attachments, so how do you send a dummy of your author/illustrator work? Simple. You copy and paste your query and the text of your picture book project (even if the text is dependent on illustration, we understand how that goes) and mention that you're an author/illustrator. Then include a link to your online portfolio (every illustrator should have one, even those who are technically illiterate but could easily hire or ask someone, there's really no excuse and you will get steamrolled by your competition if you don't) where, ideally, we can see a few sample illustrations. If I like your art style, I will ask for the dummy, and then you can send the attachment!
My passion for editing picture book author illustrators is alive and well. Hire me to edit your picture book manuscript and provide art notes on your dummy